Your Complete Guide To Handling Flight Cancellations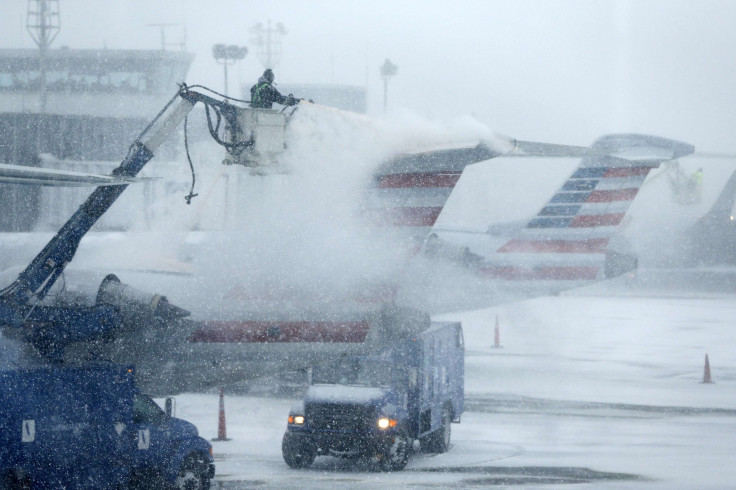 The nor'easter expected to start Monday evening is already wreaking havoc on air travel in the U.S. -- more than 4,000 flights have been pre-emptively canceled around the country, with more likely to come. If you're one of the unlucky travelers who was scheduled to fly this week, you're going to need a lot of patience. There are some things you can do, however, to be in a better position to get rebooked on the flights you want -- and just to make your experience a little easier.
Stay In The Know
While it's a no-brainer to sign up for updates directly from your airline, some third-party apps from sites such as FlightStats.com or FlightAware.com can send you even more timely updates -- often before your airline contacts you.
Reschedule Your Flight Now
If your flight isn't one of the thousands that's already been grounded but you're flying to, from or through the affected regions in the East Coast, save yourself a headache and rebook now. Most airlines are waiving their change fees for passengers ticketed on Jan. 26 or Jan. 27. Find a list of travel alerts from various major airlines here, or visit your airline's website -- it has likely posted information to the front page, as United, Delta and JetBlue have done.
Check When The Airline Has Rebooked You
Most airlines will automatically rebook passengers from canceled flights on the next available ones, but the dates and times could be all wrong for you. Log into your airline's website, or check your alerts to see when you've been rebooked. If if doesn't work for you, you are entitled to a full refund.
Get Someone On The Phone Right Away
Whether you get notice of your flight's cancellation at home or while you're already at the airport, it's vital that you contact the airline immediately in order to beat the mad rebooking rush. If you're at the airport, don't just wait in line to talk to a gate agent -- double up by calling while you wait. Buy a day pass to a frequent flier lounge (if your airline sells them, as Delta does) and get help from the concierge there. If you're a frequent flier with elite status, try calling the frequent flier program number. And if you really want to play dirty, consider calling the lines designated for non-English speakers to cajole your way into some help. For a complete list of airline phone numbers, click here.
Present The Airline With Alternatives
If you can give your gate agent or customer service representative booking options when they're already frazzled by dozens of phone calls, you'll improve your shot at getting rebooked quickly. The NextFlight app can help you find rebooking options, while FlightStats.com offers a service that searches for open seats on other flights. And while the airlines won't tell you this, they do have the ability to sign your ticket over to another carrier, so ask if nothing else is available. Just be sure to ask whether they will charge you an additional fee for the service.
Go Social
If you're stuck on hold with your airline, hit up social media while you wait. Tweet at your airline or post to their Facebook page. Many airlines empower their social media customer reps to make flight changes.
Milk The Airlines
During weather delays and cancellations, U.S. airlines aren't legally required to offer accommodations and meals, but some do anyway. This chart details the policies for most major U.S. airlines. For example, if a delay exceeds four hours, Delta Air Lines will provide meals and cover hotel and ground transportation if the delay occurs between 10 p.m. and 6 a.m. If you're flying to the U.S. from a city in the European Union, you're in luck: The EU requires airlines to offer compensation, meals and hotel lodging for cancellations or delays longer than two hours.
Enlist Help
The Cranky Concierge is an air travel assistance service that can help you with last-minute snafus, especially if you haven't booked with a travel agent. For $150, you can get assistance for up to four travelers in finding alternate flights, booking help and more.
Talk To Your Credit Card Issuer
If you booked your trip using a credit card, you may be covered by travel insurance protection, even for weather delays. The Chase Sapphire card, for example, covers trips up to $5,000 that are canceled because of severe weather.
Get A Hotel Easily
If you're stranded at the airport, you don't have to settle for sleeping on the floor. The HotelTonight app helps you find last-minute deals on rooms, including airport properties. You should also ask your gate agents whether they have any vouchers for reduced rates at airport hotels.
Lounge Around
When the crowds are thick and stress levels are high, escaping to an airport lounge can make waiting around more bearable. Many lounges now sell day passes for around $50 for the privilege of munching on some food, accessing Wi-Fi and relaxing in more pleasant surroundings. And the agents stationed at lounges are likely to be less swamped and thus more helpful if you need assistance. The LoungeBuddy app helps you find out which lounges are accessible to you, depending on your flight, airline and credit card status.
© Copyright IBTimes 2023. All rights reserved.