BLM Protestors Clash With Police, Alleged Use Of Pepper Spray By Police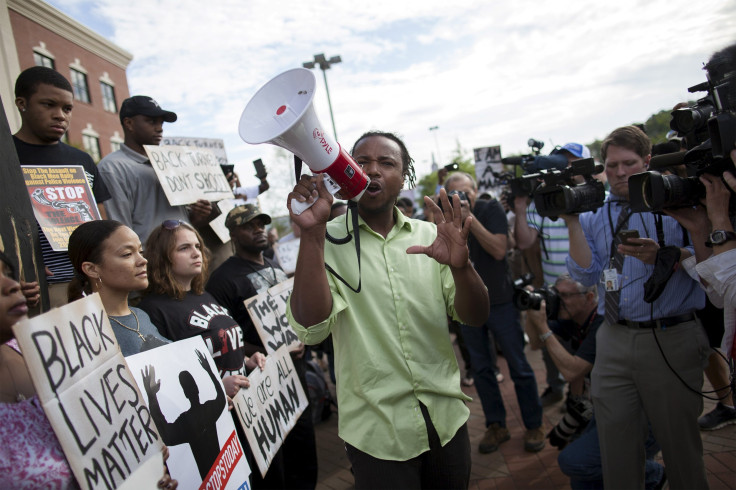 Police officers and demonstrators clashed Sunday during a protest in Cleveland. Demonstrators gathered just before 5 p.m. on East 24th Street and Euclid Avenue after a black teenager was arrested, WEWS-TV, Cleveland, reported.
Witnesses said a 14-year-old boy was accused of having an open container at a bus stop. They said the officer slammed the teenager to the ground and used pepper-spray. Meanwhile, across the street at Cleveland University, a convention called the Movement for Black Lives was being held. After the reported arrest, people from the convention rallied outside.
Numerous witnesses told newsnet5.com officers had used mace and pepper-spray on several of the protestors. There also are videos and pictures circulating on Twitter that show a police officer using pepper-spray on people.
WEWS reported Cleveland Police, Cleveland State Police, transit police, the Cuyahoga County Sheriff's Office and Cleveland emergency services were all on the scene. The Cleveland Police had originally blocked Euclid Avenue at East 30th Street, but the street was reopened.
A video was also posted online showing demonstrators celebrating after the teenager was released. "This is what community looks like," Mvmt 4 Black Lives tweeted.
The "Movement For Black Lives" convention took place Friday through Sunday.
"This convening presents an opportunity for us to reflect on our histories of struggle, build a sense of fellowship that transcends geographical boundaries and begin to heal from the many traumas we face," according to the Movement For Black Lives website. "Whether through topical trainings, engaging conversations or just kicking back with each other -- we will strengthen a budding community that is diverse in voices, origin, perspective and strategy."
The Black Lives Matter group also demonstrated in Cincinnati Sunday, calling for justice in the death of Samuel Dubose, an unarmed black man fatally shot by police. The rally began at the University of Cincinnati Police Headquarters and ended at the scene of the shooting, WLWT, Cincinnati, reported.
© Copyright IBTimes 2023. All rights reserved.
FOLLOW MORE IBT NEWS ON THE BELOW CHANNELS