Bloodline's Latest Twist Proves Importance Of Long-Term Storytelling In Pro Wrestling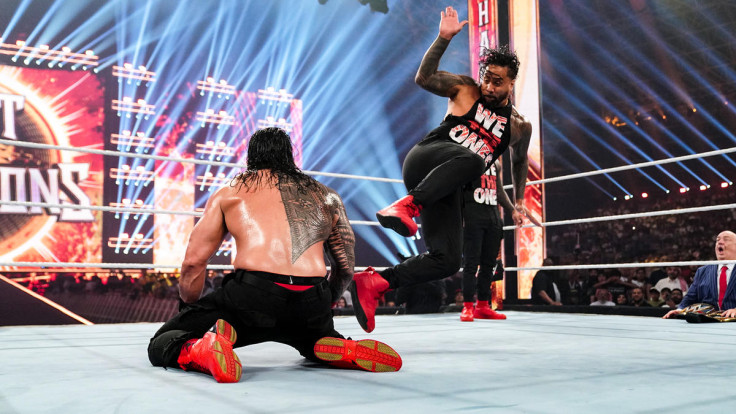 KEY POINTS
Jimmy Uso's actions at Night of Champions heralded the beginning of the Bloodline's end
Fans had grown frustrated with the faction's story in recent months
Triple H and his team's creative vision for the Bloodline deserves recognition
"Listen to me, uce! I'm doing what you should've done a long time ago. I got you!"
Such were the words of Jimmy Uso to his twin brother Jey before delivering a final superkick to Roman Reigns, following a blood-curdling roar of exasperation, in the main event of the Night of Champions pay-per-view on Saturday, May 27.
Fans had long been waiting for the beginning of the Bloodline's downfall, and those who have been following the group's story only need to look back to WrestleMania 39 in April as to why they shouted in elation with Jimmy's storybook moment.
Reigns retaining his status as undisputed WWE Universal Champion at the "Showcase of the Immortals" against a white-hot Cody Rhodes drew seething reactions from most fans as they wanted to see him fulfill the story that he had long been selling–being the first in his family to win the top title in WWE history.
But as WWE's head of creative Triple H pointed out in the press conference after WrestleMania, "It's almost perfectly spelled out in this story: I need to finish this story. In the WWE, the story never finishes... We just got to the end of a chapter."
"But the story continues, and that's where this [Bloodline story] gets interesting to me," he would later add.
Following WrestleMania, the Bloodline storyline had begun showing even bigger cracks which almost culminated with Sikoa nearly attacking Jey Uso after their win at the Backlash pay-per-view on May 6.
WWE choosing to have his older brother Jimmy (also Sikoa's real-life older sibling) make the turn against Reigns was an interesting choice, to say the least, because many had grown convinced that it was going to be Jey who kickstarts the breakup angle.
Reigns being seen as the face of the entire story makes sense since he holds WWE's biggest singles titles, but the belief among many hardcore fans is that it has always been Jey's story since he was the first to stand up against Reigns, and subsequently, the first to fall at his feet.
Jimmy followed suit soon after rather easily in order to spare his twin brother from any more punishment at the hands of their cousin, jumpstarting the Bloodline story.
For the better part of 2021 and 2022, the Bloodline ran roughshod throughout the WWE roster and the addition of Sikoa to the stable with Paul Heyman serving as the "Special Counsel" of the group added new wrinkles to their dynamic.
However, their constant run of domination with all the major titles around their waists, save for the United States and Intercontinental Championships, had grown stale in the eyes of fans – which led to the inclusion of Zayn.
Brought in to the group as a down-on-his-luck performer looking to gain their favor, Zayn did everything in his power to earn their respect and would soon be brought into the group full-time, even being recognized as the "Honorary Uce".
Things went swimmingly for the Bloodline from there, but Zayn's betrayal of the group at the Royal Rumble event in January led to chinks in their once-vaunted armor.
While Reigns retained his titles against Zayn at the Elimination Chamber pay-per-view a month later while exacting revenge for turning on them, fans began speculating how long it would take for the group to start its final descent into full-blown chaos.
"It's me and you now! We the ones, not him. I'm your brother, not him. I would never do you like that. I would never treat you like that. I'm your brother!" Jimmy shouted at Jey as the latter was distraught over the former's actions – knowing full well that there will be hell to pay soon.
Taking into consideration how Jey felt the same emotions at Night of Champions that he did in Zayn's treachery a few months before and even stretching back to how it all began in 2020, he is back to being the centerpiece of it all once again.
He must now choose between two things: stand alongside his longtime tag team partner and take on the insurmountable mountain that is his fear of failing once again at ending his cousin's reign of terror or solidify his loyalty to the "Head of the Table" at the expense of breaking his bond with his twin.
Fans were convinced that WWE needed to pull off a storytelling masterclass to prove that sacrificing Rhodes' moment for the long-term story was going to be worth it.
With how it all unfolded at the Jeddah Super Dome in the Kingdom of Saudi Arabia, WWE proved that the Bloodline has a lot more left to give in the coming months.
When done right, long-term storytelling in the world of pro wrestling is as amazing as it gets and Triple H, plus his creative team, deserves their flowers for pulling off another soap opera-like twist in the soon-to-be three-year story of the Bloodline.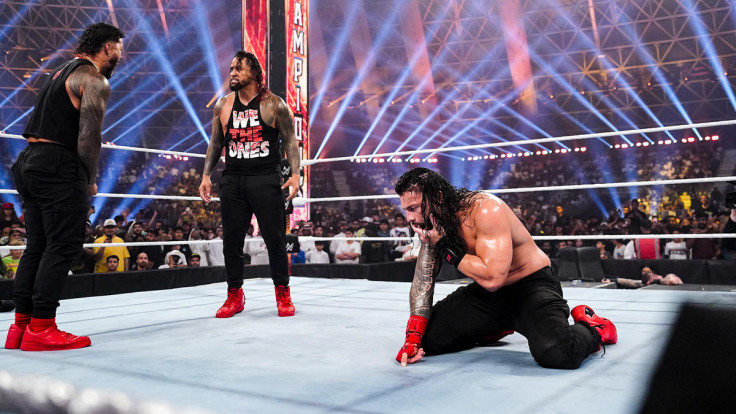 © Copyright IBTimes 2023. All rights reserved.