Boat Carrying Refugees Capsizes In Aegean Sea, Turkish Coast Guard Launches Rescue Mission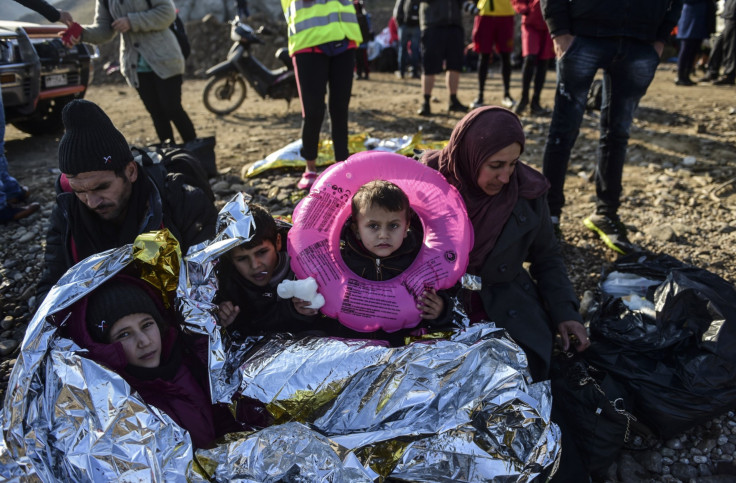 More than 200 refugees were rescued in the Aegean Sea by the Turkish Coast Guard off the Ayvalik coast of Turkey's western Balikesir province Sunday. The refugees had been en route to the Greek island of Lesbos in four boats, one of which capsized due to overloading after reaching the Turkish Maden Island near Balikesir, Turkish press reported.
The Coast Guard pulled the refugees from the water. There were no reports of casualties.
It was not immediately clear how many refugees were on the boats, but Daily Sabah reported there were 65 children and 41 women aboard, and the refugees were of Syrian, Palestinian, Tibetan and Indian nationalities. The Turkish Coast Guard brought the refugees to Cunda Island near Balikesir.
The rescue operation is just one of hundreds that have taken place in the last eight months to rescue refugees fleeing to Europe. The International Organization on Migration estimates that more than 220,000 migrants arrived in Greece by sea in October alone and more than 220 died in the waters between Turkey and Greece in that same month.
The Turkish Coast Guard made another big rescue in October when it pulled more than 240 refugees out of the water after their boats capsized.
The refugees that cross the sea from Turkey to Greece are part of an expanding network of people crossing into Europe from the Middle East that are trying to escape the war in Iraq and Syria, and the Islamic State group, also known as ISIS.
Refugees can travel by land, too. But it has become increasingly difficult for refugees to pass into Europe by land because many countries, including Poland and Hungary, have closed their borders and built barbed wire fences to keep them out. Officials in the countries are not only overwhelmed by the sheer number of people passing through their borders, but they are also afraid that foreign militants working with ISIS will cross into their country and carry out an attack like the one in Paris that killed 130 people.
Now, refugees who try to cross into these countries are arrested and detained indefinitely. Around 700 people have so far been processed for deportation from Hungary after a court decided they had crossed the border illegally, but many are still in detention. Few of them have any idea when they will be released, said Babar Baloch, a spokesman for the UN Refugee Agency in Central Europe, adding that they have been stripped of their belongings, including any form of communication with the outside world.
© Copyright IBTimes 2023. All rights reserved.