Bobby Jindal An Anchor Baby? GOP Candidate Was Born In Louisiana To Immigrant Parents, Wants To End Birthright Citizenship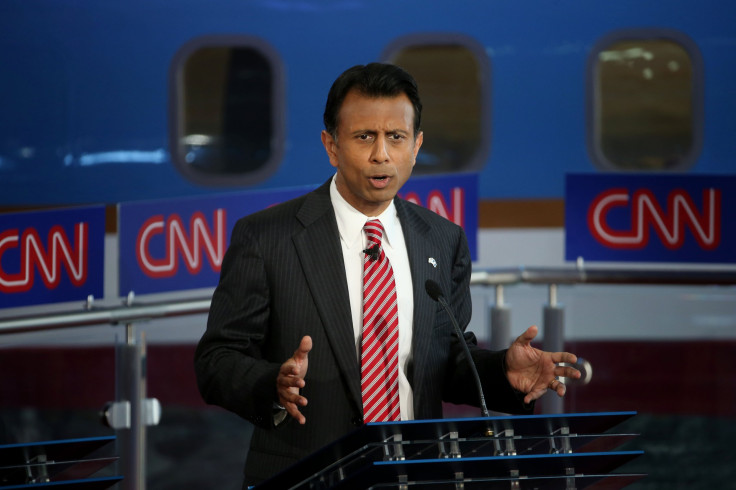 In a rare moment during Wednesday night's GOP debate, Kentucky Sen. Rand Paul and real estate tycoon Donald Trump agreed on something: eliminating the practice of birthright citizenship, which makes babies born on American soil automatic citizens. But social media users called attention to another candidate. They discussed Louisiana Gov. Bobby Jindal, asking whether he was a so-called "anchor baby" himself.
Jindal was born on June 10, 1971, in Baton Rouge, according to the Times-Picayune. His parents had immigrated to the United States from India four months before, when his mother was offered a scholarship at Louisiana State University to study nuclear physics and his father came to work as an engineer. Both Jindal parents came on green cards and later became citizens.
Critics argue "anchor babies" provide an advantage to undocumented immigrants seeking citizenship because when children become adults they can sponsor their parents for permanent residency. But Politifact found last month that Jindal, because he was younger than 21 at the time of his parents' naturalization, provided them with no benefit. They were also already living in the U.S. legally.
Jindal, who supports stopping birthright citizenship, has previously said that he's happy to use the "anchor baby" term. He clarified his history at a campaign event last month when an attendee asked "Did I hear you say you were an anchor baby?" Jindal responded bluntly: "No, no, I'm not," he said, according to the Des Moines Register.
Jindal appeared in the "kiddie table" debate Wednesday night at the Ronald Reagan Presidential Library in Simi Valley, California. Trump and Paul were among the main players who appeared during a later prime-time debate alongside former CEO Carly Fiorina, neurosurgeon Ben Carson, former Florida Gov. Jeb Bush, Texas Sen. Ted Cruz, Florida Sen. Marco Rubio, Ohio Gov. John Kasich, Wisconsin Gov. Scott Walker, former Arkansas Gov. Mike Huckabee, Kentucky Sen. Rand Paul and New Jersey Gov. Chris Christie.
Trump remained at the top of the polls Wednesday with the support of 27 percent of Republican primary voters, followed by Carson at 23 percent, CBS News reported. Next-highest were Bush, Huckabee and Rubio, all with 6 percent.
After Wednesday's show, the next GOP debate was set for Oct. 28. The first Democratic debate was scheduled for Oct. 13.
© Copyright IBTimes 2023. All rights reserved.