'Bodies Were Put In Bags': Russian Soldier Talks About Ukraine War Casualties In Intercepted Call
KEY POINTS
Ukraine's intelligence and military force have intercepted several calls by Russian soldiers
Several soldiers have allegedly complained about the losses in the war
Some evidence showed Russian commanders were sending hundreds of people to their deaths
A Russian soldier, whose call to his mother was intercepted, spoke about the heavy losses his comrades have been facing in the war in Ukraine.
The "invader" said during the call that the bodies of the deceased were put in bags, and sent to undisclosed locations.
The soldier claimed he now stays in the temporarily captured Kherson region, according to the Chief Directorate of Intelligence of the Ministry of Defense of Ukraine.
"A week ago, our company commander and his deputy were wounded, they were not saved. Then their bodies were put in bags and sent somewhere," the Russian soldier told his mother during the call, according to an English translation by Ukrinform.
He also said there have been several Russian soldiers who have died fighting for their country in Ukraine, and added that Moscow's TV channels do not report the truth about the casualties.
Ukraine's intelligence has intercepted several such calls made by Moscow's soldiers to their families in which they have talked about the real scenario on the front.
Last month, the Security Service of Ukraine reportedly intercepted a conversation in which the Russian soldier spoke about the losses in the war, and also about the untrained troops being sent by Moscow to fight Ukraine's army.
"The Russians cannot accept the fact that the Armed Forces of Ukraine are destroying their forces near Kharkiv. This reality is in sharp contrast to the pseudo-victorious pictures of the Russian army that they are shown on TV. And it is difficult for relatives of the Russian invaders to accept that their 'soldiers' are suffering huge losses to the Ukrainian defenders," the Security Services was quoted by Pravda.
During the call, the occupier told his relatives they "are under pressure, for now, we're losing."
Earlier this month, evidence obtained by Ukrainian intelligence showed Russian commanders were sending hundreds of people to their deaths in the ongoing invasion which began on Feb. 24.
"They just sit there and send 20 to 200 people to their deaths, and that's it," a Russian soldier told his fellow trooper in an alleged call intercepted by the Ukrainian Ministry of Defense's Chief Directorate of Intelligence.
The people who came from east Russia were "all f-----g killed," the soldier said. He also mentioned the "weakness" of the orders given to the frontlines.
"One got his bones broken... A lot of them had one leg just hanging. We were going around clearing mines. What we couldn't demine, we threw off the road into the bushes. They collect scrap metal here - tanks, armored personnel carriers," the soldier said, according to an English translation by Pravda.
International Business Times could not independently verify the situation.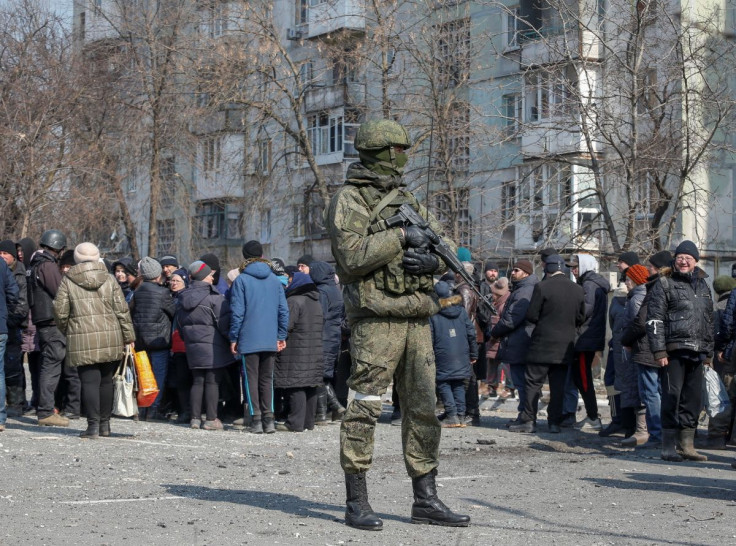 Read more
Russian Soldiers Abandon Thousands Of Ammo And Weapons Near Belarus
Ukrainian Bureviy Rocket System Helps Push Back Russians
© Copyright IBTimes 2023. All rights reserved.