Body Camera Debate Intensifies Following Walter Scott Shooting: Renewed Push In South Carolina And Across US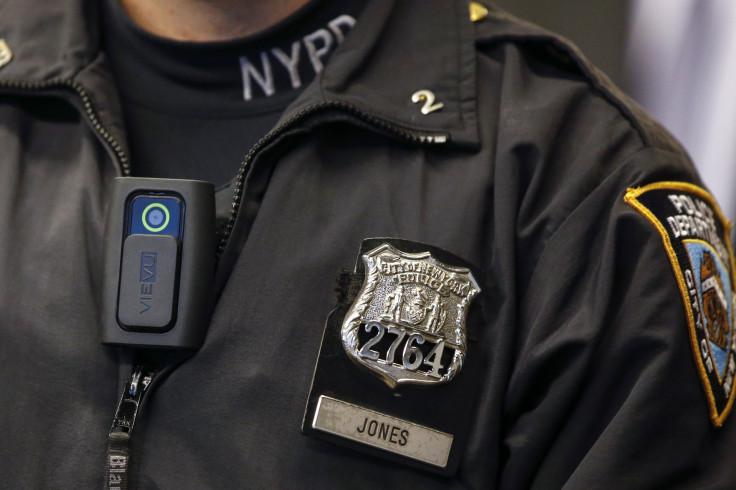 Months before video surfaced showing a South Carolina police officer shooting an unarmed black man in the back as he fled a traffic stop, Democratic state Rep. Wendell Gilliard issued a chilling warning to his colleagues about the need for police body cameras. "South Carolina might unfortunately be brought into a sad light," Gilliard remembered telling them as he introduced legislation last year that would make body cameras mandatory for police forces statewide.
The videotaped shooting of Walter Scott last Saturday has renewed a push for widespread adoption of body cameras by U.S. lawmakers and civil rights leaders, who see the cameras as a feasible option to quell public concerns about fatal police encounters. Although video is not a universal vindicator in police-citizen interactions, the use of the cameras has often been cited for decreasing the number of police shootings and false complaints.
Gilliard, who represents the same district where Scott was killed, wishes the political will for the cameras would come before more unarmed black men are gunned down by police. "I didn't want this kind of push," he said, referring to Scott, 50, who was shot by North Charleston police officer Michael Slager. The 33-year-old officer fired eight shots into Scott after a brief confrontation and first told his superiors that he acted in self-defense. But a bystander's video of the incident revealed Slager shot a fleeing Scott and planted a Taser next to Scott's dead body to support his false statement. This week, Slager was swiftly arrested, charged with murder and fired from the police department.
After Gilliard's and others' emotional pleas for greater accountability and transparency in law enforcement -- factors that many believe would come about if officers wore body cameras -- the largest hurdle for local and state governments considering the cameras is the often unpredictable cost of data storage and maintenance. Politically, the issue loses steam when lawmakers are asked to find the hundreds of thousands of dollars needed for proper implementation at the state level and to justify passing the cost of a mandate on to local departments, said Yucel Ors, the programs director for public safety and crime prevention unit of the National League of Cities.
"It seems like cameras are a great thing, but there is a lot to be considered," Ors said. "It's not the equipment, but it is the data that is being collected and how it's secured and stored that holds this issue up. It'll come down to how the cost, storage, as well as privacy and press freedom issues are addressed."
Support for police body cameras also came from civil rights groups such as the NAACP, the National Urban League and the National Action Network, which see the cameras as a civil rights issue in the wake of the police-involved deaths of Michael Brown in Ferguson, Missouri, and Eric Garner in Staten Island, New York, last year. "We simply can't rely on citizens with video cameras to make sure justice is served," the Rev. Al Sharpton, the NAN founder, said in a statement about the Scott shooting on Wednesday.
Police departments in cities across the U.S. have installed dashboard cameras in their police cars for years. An increasing number of states, about 30 as of February, have been considering legislation to require police to wear body cameras, according to the National Conference of State Legislatures. New York and Los Angeles currently have pilot programs in which officers are testing their use.
The cameras themselves can cost from a few hundred dollars apiece to $1,000, according to estimates from the country's largest vendors. But the cost of storage and editing to protect citizen privacy, whether done in-house or managed by an outside contractor, varies depending on the number of cameras deployed in the field. Following a handful of police shootings that sparked protests nationwide last year, President Barack Obama announced an allocation of $263 million federal dollars for outfitting 50,000 state and local police with body cameras. But Ors said the money would likely cover initial implementation.
Many lawmakers who support the legislation say the potential to save lives, and to protect officers, should outweigh most cost and policy consideration. Jamilah Nasheed, a Democratic state senator in Missouri, said the South Carolina incident proved to her that a body camera might have affected the outcome of Brown's shooting by former Ferguson police officer Darren Wilson last year. But Nasheed's bill, which would require police departments in cities with more than 100,000 people to use body cameras, has been caught up in semantics. "It's a win-win situation for the community and law enforcement," she said. "The community relations supersede the cost issue. We have to get rid of the bad apples, and body cameras would do that."
Some potential backers in Missouri want protections that ensure victims of domestic violence, and other police-involved incidents are not subject to privacy violations. She agrees with that provision but doesn't want her colleagues to drag their feet waiting for a perfect piece of legislation while more shootings like Brown's could happen. "They are so detached when it comes to what happens in the urban corridors," Nasheed said. "They have to be able to empathize, and that's not there."
In South Carolina, body camera legislation enjoys bipartisan support that has grown in the wake of the Scott shooting, said state Sen. Marlon Kimpson. He said skeptics who decry potential costs of body cameras chose to ignore their proven benefits and don't flinch when the discussion is about funding for police weapons and other artillery. "If we ask the family of Walter Scott, and so many other Americans who have been gunned down, that were not captured on video, how much it cost the family to lose their loved one, I don't think you can put a price on that," he said.
FOR FREE to continue reading
✔️ Unlock the full content of International Business Times UK for free
offer available for a limited time only
✔️ Easily manage your Newsletters subscriptions and save your favourite articles
✔️ No payment method required
Already have an account?
Log in
© Copyright IBTimes 2023. All rights reserved.