Boehner: has no control over possible downgrade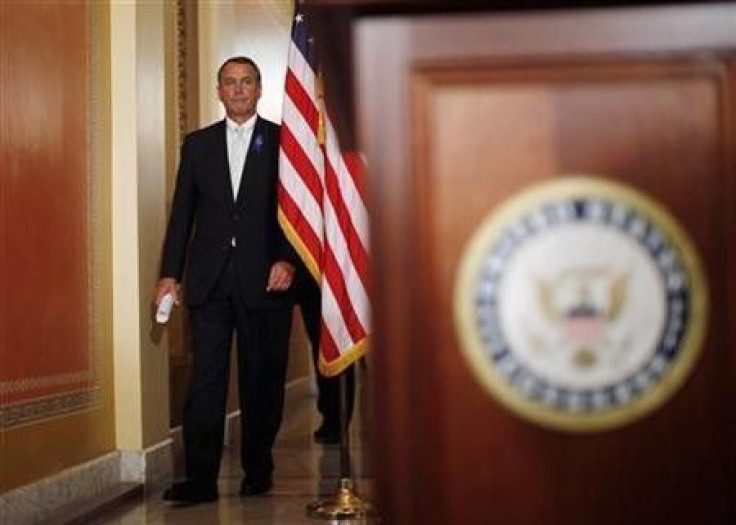 House of Representatives Speaker John Boehner, the top Republican in Congress who has put forward a deficit reduction plan to be voted on later Thursday, said he had no control over whether his bill would avert a credit downgrade.
Rating agencies have threatened to downgrade the United States' top-notch credit rating if a deficit cutting deal is not reached before August 2. A downgrade would raise U.S. borrowing costs and rattle global investors.
The Treasury has said it will not be able to borrow more funds after August 2, raising the prospect of a government default. However, analysts say the government may have enough cash on hand to pay its bills until the middle of the month.
Boehner said he did not want to wait until after August 2 to try to get a better deal.
"With the fragile economy that we have, the last thing we need to do is to play around with August 2 and the unknown," Boehner told reporters.
The Republican-controlled House is tentatively scheduled to vote on Boehner's proposal this afternoon at around 6 p.m. EDT. The main Republican vote counter in the House, Kevin McCarthy, would not say if there were enough votes to pass the bill.
If it passes the House, the bill will go to the Senate where Democratic leader Harry Reid has promised that it would be defeated.
Further negotiations could be needed to find another type of compromise that both parties could agree to before August 2.
Asked if the House would remain in session this weekend, Boehner said "sure."
© Copyright Thomson Reuters 2023. All rights reserved.