Boeing Chases An $18 Billion Deal In India For F-15EX Fighter Jets
KEY POINTS
There are currently two contracts available in India, one of them totals out at $18 billion
There are multiple competitors across the globe for these contracts
Boeing already has the infrastructure in place to service the contracts
Even though its recent domestic issues with the 737 Max program have cast a shadow, U.S. Aerospace giant Boeing has continued to do well with its military programs particularly outside of the United States. There are a couple of substantial military contracts up for grabs in India, and Boeing stands poised to make a run for both of them. India is heavily considering two aircraft, the F/A-18 Hornet and F-15 EX.
In April last year, the Indian Air Force issued a request for information or initial tender to acquire 114 fighter jets. Boeing stands ready with its F-15 project. Boeing has applied for a license allowing them to export the jets from the United States to India. The recent licensure only applies to the F-15 as Boeing already has the license to produce the Hornet outside of the United States.
If Boeing can land this contract, it would be worth over $18 billion and would significantly update the Indian arsenal. However, competition for the contract is tight as there are multiple contenders from across the world. Lockheed's F-21, Boeing's FA-18, Dassault Aviation"s Rafale, the Eurofighter Typhoon, the Russian MiG-35 and Swedish SAAB's Gripen round out the competition.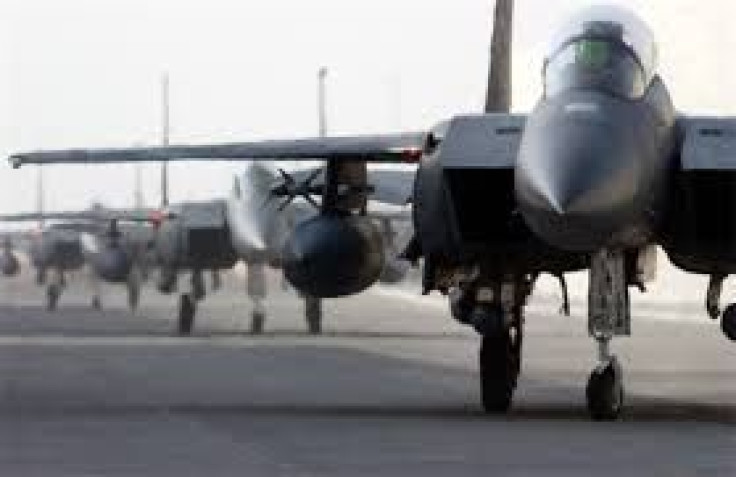 There is also a contract out from the Indian Navy seeking to acquire 57 multi-role combat aircraft for its aircraft carriers. There is no monetary value attached to that contract that is available; however, there are six planes that are currently compatible with aircraft carrier operations. These include the Rafale, the Super Hornet, the MiG 29k from Russia and two entries from Lockheed Martin -- the F-35b and F-35c.
Boeing already has a foothold in the country, and a spokesperson from Boeing India operations said last week in a report by Business Standard that the company was ready to expand its operations in the country. This comes on the heels of the Indian Air Force's purchase of a fleet of Boeing Chinook heavy-lift aircraft and AH-64 Apache Attack helicopters.
There has been no indication of movement on the contract as of yet, but Boeing already has the production facilities in the country to begin the process.
A source close to the project told International Business Times that Boeing enjoys a good relationship with India, and things are looking good. Speaking under the condition of anonymity, the source went on to say that Boeing has a leg up on the situation as far as India is concerned because they are already there. Boeing certainly wouldn't mind landing something like this.
© Copyright IBTimes 2022. All rights reserved.
FOLLOW MORE IBT NEWS ON THE BELOW CHANNELS