Boeing Defense Jobs In St. Louis At Risk As Kuwait F-18 Super Hornet Deal Left Uncertain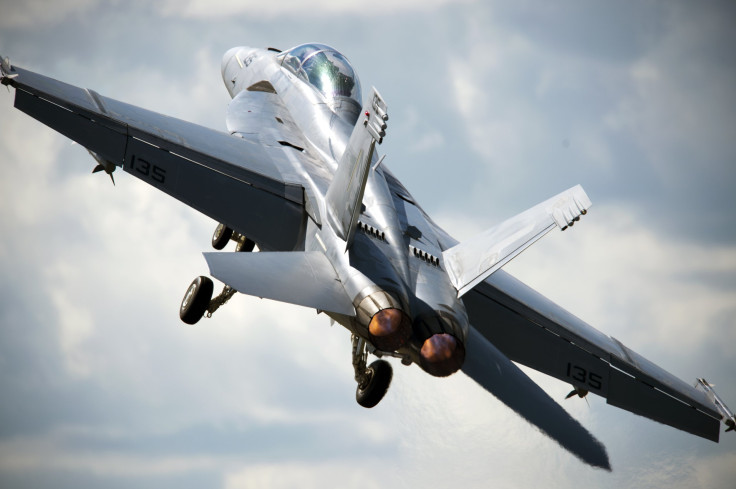 Workers on the assembly line at Boeing's production plant in St. Louis are in danger of losing their jobs after a deal that was expected to keep the site up and running appeared to fall through this week. Citing congressional delays, the Kuwaiti military said it couldn't wait any longer for approval to buy 28 of the company's Super Hornet F-18 fighter jets, which the plant specializes in.
Instead, the Middle Eastern country signed a deal with Italy worth more than double what it would have paid the American aerospace company. But while Boeing is still hopeful that a separate deal can be reached, the falling cost of oil means Kuwait will have less money to spend on defense, leaving Boeing workers with a nervous wait as the defense giant attempts to find new buyers that could keep the plant open and secure its position — and jobs — in the military aviation sector past the end of the decade.
"If Congress doesn't get this Boeing deal done with Kuwait, it absolutely could be a huge problem for jobs in St. Louis," said Richard Aboulafia, aviation industry expert and vice president of the Virginia-based aerospace think tank Teal Group. Hundreds of Boeing jobs and possibly thousands of related defense jobs with suppliers would be at risk if the deal didn't go ahead, he added. "I'm kind of baffled by what's going on with this deal. There's a number of possibilities to account for the delay, possibly that it's coming from the highest level and is designed to serve some kind of foreign policy purpose or this is just the horrible bureaucracy of Congress."
Concerns about getting the deal done with Kuwait were aired at the highest level two weeks ago when Secretary of the Navy Ray Mabus complained about the "long torturous process you've got to go through to do any of this, to do any international sale, whether to an ally or not," referring directly to the F-18 Super Hornet sale to Kuwait, which had been in negotiations since last summer.
Mabus' concern is routed in the fact that the U.S. Navy had a double stake in Boeing getting the Kuwait deal complete: Not only would it mean that the U.S. would have a strategically placed ally that uses familiar equipment, it would ensure the F-18 production line in St. Louis stays open past its current closure date near the end of the decade and allow the Navy the option to have more Super Hornets built without having to make a large commitment needed to justify Boeing keeping the line open.
At one time the Navy was willing to allow the manufacturing line to end as it stopped buying Boeing's F/A-18E/F Super Hornet and instead started buying Lockheed Martin's stealthy F-35C Joint Strike Fighter. But serious concerns over how well the F-35's stealth capabilities will hold up against advanced enemies, repeated delays to the program, coupled with maintenance problems with older-model F-18s, have revived naval and congressional interest in buying more.
But the Navy wanted the Super Hornet sales to foreign militaries to keep the line open while it waited to see if the F-35 worked out. Now the Pentagon will have to make tough and potentially expensive decisions in its upcoming 2017 defense budget plan: to spend money keeping the line open or wait for Congress to make a deal with Kuwait.
When announcing its decision to buy the Eurofighter for $8.7 million, Kuwaiti defense officials indicated their patience had worn thin in waiting for Congress to push the deal through, suggesting Kuwait was deciding between the Eurofighter and the F-18 Super Hornet and not a split buy. Boeing's deal with Kuwait was worth $3 billion.
However, an industry insider who was not authorized to speak on the topic out of fear of jeopardizing a potential agreement said a deal was still a distinct possibility. "Talks with the U.S. government about a Super Hornet sale to Kuwait are still moving forward," said the source.
But there's every reason to believe that Kuwait might go cold on the deal if the price of oil — on which its economy has a huge reliance — continues to linger around $30 per barrel. Kuwait, which slashed its budget just over a week ago to account for a $27 billion black hole, had conservatively budgeted for the price of oil to remain at around $45 a barrel.
Boeing spokeswoman Caroline Hutcheson said the company would "continue to work with our potential international customers" and that the Kuwait deal was an important bridge to possible U.S. Navy orders that would enable the Super Hornet line to remain fully operational. Orders from the Australian air force will keep production going until 2018, at which point the company hopes it will gain business from other interested countries, including Denmark, Belgium, Finland and Canada, Hutcheson added.
Those possibilities aside, Boeing's position in the military aviation sector is one that is quickly being weakened. The company recently lost out on a joint bid with Lockheed Martin for the U.S. Air Force's long-range bomber to Northrop Grumman, placing Boeing's defense business on unsteady ground.
While Boeing continues to manufacture the F-18 Super Hornet and the F-15 Eagle jet fighters out of St. Louis, a lack of orders from home and abroad are likely to see both lines shuttered in 2018 and
2019
, respectively. "There's a lot Boeing can pursue out there, and it might have a glorious next five years if it can make the right deals, but beyond 2021 it's going to be really difficult for their entire defense military aviation industry," said Aboulafia of the Teal Group.
Kuwaiti Military Expenditure Over Time | FindTheData
At the sharp end of those business failures are the F-18 Super Hornet workers in St. Louis.
The Machinists Union, which represents the St. Louis Boeing employees, was not available to comment on the future of the production line. But president of District 837 Steve McDerman told International Business Times in late October that losing the long-range bomber contract to Northrop Grumman seriously "hurt" his members because it would have been a source of new work should the F-18 and F-15 lines end.
"I can see a future for our workers because I can see a future for the F-18, because it's one of the best fighter planes being built anywhere and we live in a world that is really in turmoil right now," McDerman said.
© Copyright IBTimes 2023. All rights reserved.
FOLLOW MORE IBT NEWS ON THE BELOW CHANNELS