Boeing Dreamliner 787-9 Completes First Test Flight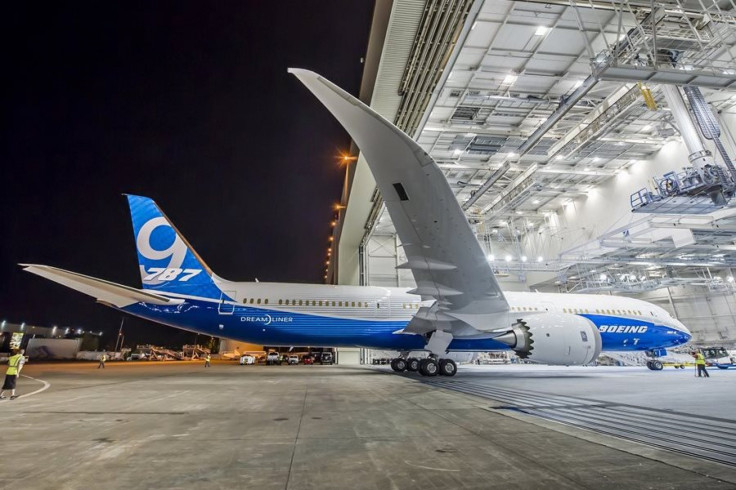 The Boeing Company's (NYSE:BA) 787-9 Dreamliner completed its first test flight on Tuesday, kicking off a flight-test program before introducing the newest addition to the Dreamliner 787 family for commercial service in 2014.
The plane, which Boeing said is going to be the "backbone of the 787 fleet," during a webcast on Tuesday, flew for more than five hours after taking off from Paine Field in Everett, Wash., at 11:02 a.m. PDT before landing at Seattle's Boeing Field at 4:18 p.m.
"The 787-9 will complement and extend the 787 family, offering airlines the ability to grow routes first opened with the 787-8," Boeing said, in a statement. "The 787-9 will carry 40 more passengers an additional 300 nautical miles (555 kilometers), with the same exceptional environmental performance — 20 percent less fuel use and 20 percent fewer emissions than similarly sized airplanes."
The twin-aisle plane can seat between 250 to 290 passengers and has a range of 8,000 to 8,500 nautical miles, and according to Bloomberg, is priced at $249.5 million.
The plane will undergo rigorous testing in coming months, and Boeing said it is on track to deliver the 787-9 to launch customer Air New Zealand in mid-2014. The company said 25 customers from around the world have placed orders for 388 aircraft and that figure represents 40 percent of all 787 orders. The 787-9 offers features such as bigger, dimmable windows, higher humidity, LED lighting, lower cabin altitude, cleaner air and smoother ride, Boeing said.
However, Boeing has been beset with technical problems concerning the Dreamliner 787 aircraft since it first flew commercially in October 2011, more than three years behind schedule.
In January, the U.S. Federal Aviation Administration, or FAA, ordered the temporary cancelation of 787 services, after batteries were found to have been burnt on two planes operated by different Japanese carriers. And, in recent months, several airlines around the world have canceled Dreamliner flights after the aircraft resumed flying in June.
© Copyright IBTimes 2023. All rights reserved.
FOLLOW MORE IBT NEWS ON THE BELOW CHANNELS