Boeing's Internal War: Seattle Engineers Point Finger At South Carolina's Shoddy Work On The 787 Dreamliner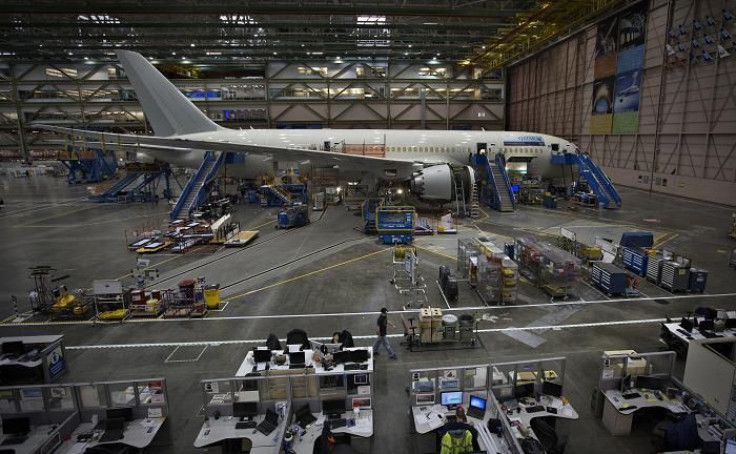 The Boeing Company (NYSE:BA) 787 Dreamliner plant in South Carolina is being criticized by Seattle-based colleagues after sending fuselage sections with incomplete hydraulics and wiring for final assembly, according to a report in the Seattle Times.
The shoddy work, according to one employee, is not a new problem and has steadily worsened in recent months, undermining the company's plans to speed up the production rate to 10 787-8 jets a month.
A Boeing spokesperson said in Monday's report that its South Carolina plant was delivering on time and making its commitments and that the company sees "no risk to the program."
However, an engineer from the South Carolina plant has said it is far behind schedule and that management has insisted on sending unfinished planes to Seattle in order to keep up the planned rate.
Various issues have arisen on the line, it has been reported. For example, engineers in Seattle recently worked extra hours on a plane to find out why an electrical system was not working correctly, only to discover that whole sections of electrical wiring were not connected, despite paperwork from Charleston saying they were.
Boeing admitted that it had experienced problems in Charleston but said they were temporary and that management had committed to a plan to make improvements.
What may be more difficult for Seattle workers to stomach is that workers in Charleston received a larger percentage in their annual bonus. Workers in Charleston got around 18 extra days pay or 6.9 percent, whereas those in Seattle got 16 days or 6.15 percent.
However, a Seattle-based engineer said it is actually the machinists in Puget Sound that were keeping the whole operation going -- and they will be receiving only a 4 percent bonus.
According to the engineer, one plane on the line had around 2,000 incomplete jobs that Charleston was supposed to complete. However, it was stressed that this does not constitute a safety concern because all systems are tested before the build is complete and the aircraft delivered. The problem, as the unnamed engineer says, is the extra hours and money required to complete the work satisfactorily.
A Boeing South Carolina engineer quoted in the article said the problems had been building for months and cited three main factors for the decline in quality.
First of all, when the plant was established in 2011, experienced aviation workers from all over the country were hired, mainly to establish good standards and work as quality inspectors. Many of them were let go in the past few months. That decision, along with the introduction to the line of the longer 787-9 model, which is slightly different from the 787-8, has caused production to dip from 10 to seven a month as workers struggle with new instructions and techniques.
In addition, he said that around the time the experienced workers were let go, the company demanded a higher level of output, which caused workers to rush jobs.
Boeing plans to increase production levels of the Dreamliner to 10 per month, and then 12 per month in 2016, and 14 in 2020.
So dire is Boeing's problem in Charleston, they've hired back 300 to 400 contractors who had previously been let go. The plant is not unionized, which means Boeing has the power to cut people whenever it wants.
To help the less-experienced workers in South Carolina, Boeing has had to rewrite the instruction manuals for each stage of assembly. Previous versions were, as the engineer said, riddled with errors, mostly because the experienced workers didn't need word-for-word instructions; most machinists had a vast array of legacy knowledge.
While Boeing's 787 battery problems continue to be a burden for its Dreamliner operation, another engineer based in Seattle said the production process for the 787 was a long way off from being a smooth operation and that every plane was a struggle.
© Copyright IBTimes 2023. All rights reserved.