Boko Haram Attacks Nigerian Town, Killing Many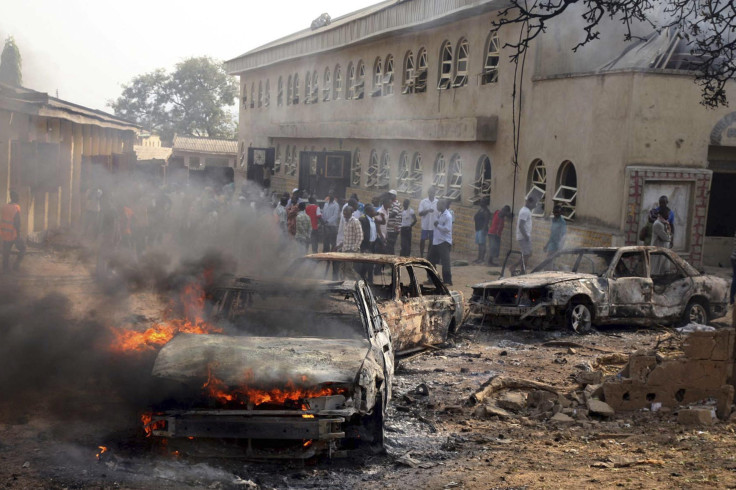 Suspected Boko Haram gunmen killed many villagers in the northeastern Nigerian town of Damboa, where a number of homes were set ablaze.
Eyewitnesses told BBC News the Islamist militants arrived Friday before dawn, shot dead civilians who attempted to surrender, blew up homes and burnt down the main market in Damboa, which lies 53 miles from the Borno state capital of Maiduguri. At least 18 bodies have been recovered, with the death toll expected to move higher. Members of Boko Haram, whose name can be translated "Western Education Is Forbidden," have killed thousands of people in a violent campaign to establish an Islamic state in Nigeria.
A local government official in Damboa who requested anonymity told Agence France-Presse: "Those who could not flee surrendered and were killed by the insurgents. They killed many people. Women and children fled into the bush."
Residents of Damboa told the Associated Press they were "piling up corpses" after the attack, with many residents fleeing to neighboring towns.
Two weeks ago, Boko Haram attacked a police station and an army camp in Damboa, killing several soldiers and chasing security forces out of town. The Nigerian Defense Ministry said the military had repelled that attack and killed at least 50 insurgents. Since then, however, Damboa has been left unguarded.
"We were defenseless because all the security personnel, including soldiers and policemen, have withdrawn," resident Ahmed Buba told AFP.
Boko Haram sparked international outrage in April by abducting more than 200 girls from their boarding school in Chibok, also in Borno state. The northeast of Nigeria has been hardest hit by the Islamists, who began their insurgency in 2009 and have often targeted schools. On Thursday, Borno Gov. Kashim Shettima said that 176 teachers have been killed and 900 schools destroyed in his state since 2011.
Nigeria's President Goodluck Jonathan asked the National Assembly Tuesday to authorize as much as $1 billion in debt to help finance the military fight against Boko Haram. However, the parliamentarians began a two-month break without OK'ing the request. Boko Haram is believed to have more firepower than do the Nigerian soldiers who fight them. This year, Nigeria's military budget was about $6 billion, but vast amounts are thought to be lost to corruption.
After the kidnapping of more than 200 schoolgirls, Nigeria requested military support from the international community. Subsequently, the U.S., the U.K., China, France and Israel sent military assistance to help rescue the girls.
© Copyright IBTimes 2023. All rights reserved.