Boko Haram Maiduguri Attack: 24-Hour Curfew Imposed By Nigerian Army After Latest Seige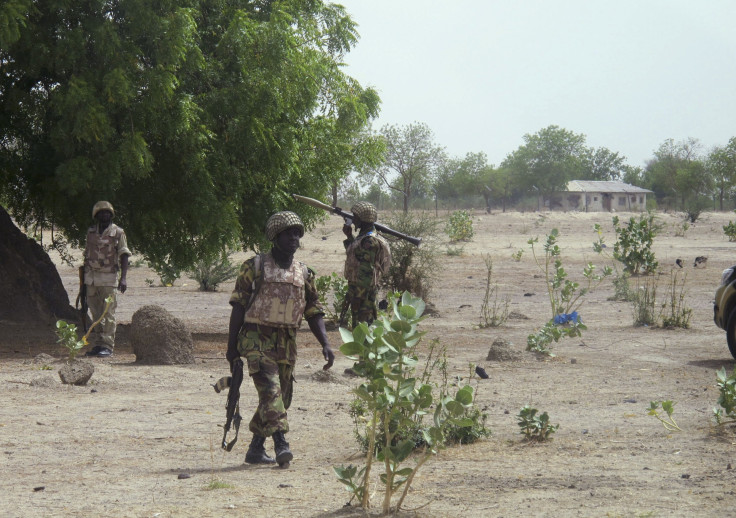 The Nigerian army imposed a 24-hour curfew Thursday on the city of Maiduguri following a fresh attack by Boko Haram on the Borno state capital Wednesday night. The Islamist insurgents again tried to overrun the Giwa army barracks in the troubled city, killing civilians and causing hundreds of residents to flee their homes. The Nigerian military managed to repel the Boko Haram militants, local media reports said.
"The situation is firmly under control," Colonel Tukur Gusau, deputy director of the Nigerian army public relations, said in a written statement Thursday. "In view of the recent development within Maiduguri metropolis a 24hr curfew is hereby imposed in the city. This is done to protect lives and property of innocent and law-abiding people of Maidguri."
Before Wednesday's attack, there was a curfew from 7 p.m. to 6 a.m., Channels Television in Nigeria said. Boko Haram militants previously launched an attack on the Giwa barracks last year and freed hundreds of detainees. More than 600 people died in the attack, most of them freed and unarmed detainees killed by Nigerian troops, according to an Associated Press report.
Maiduguri has been under siege by Boko Harm for months and over 300,000 refugees have flocked to displacement camps in the city, which has swelled its population to more than 2 million. Losing control of the city would threaten the Nigerian government's grip on one of Boko Haram's most important strongholds in the northeast, the New York Times reported.
The Nigerian army has announced recent gains on Boko Haram territory in Sambisa Forest, said to be the last holdout of the insurgents. The military said it has rescued nearly 700 women and children and destroyed more than a dozen terrorist camps in the forest, which covers over 23,000 square miles – mostly across Borno, Yobo, Gombe and Bauchi states in northeast Nigeria.
Still, more than 1.5 million people have been uprooted from their homes and even forced across borders since Boko Haram launched its insurgency six years ago. The militants have killed more than 13,000 civilians since 2009, according to the United Nations refugee agency.
© Copyright IBTimes 2023. All rights reserved.