Boko Haram Militants Expanding Beyond Nigeria Into Chad, Niger, Cameroon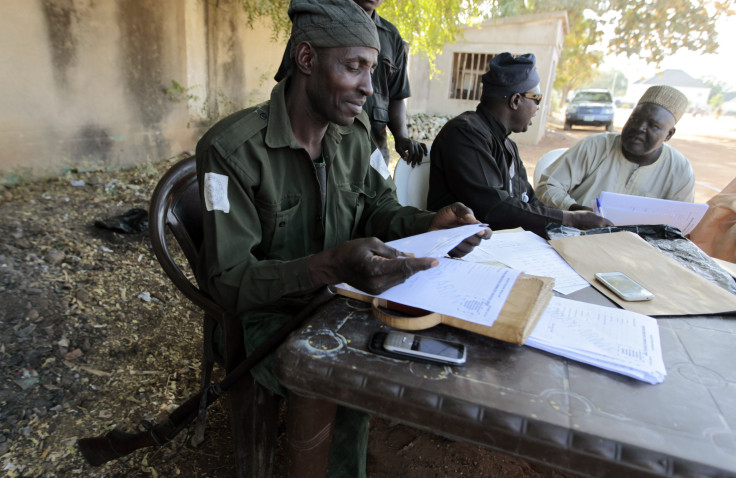 One of the world's most notorious terrorist organizations, Boko Haram, has ransacked villages in northeastern Nigeria and slaughtered close to 3,000 civilians since the beginning of the year. Although the Sunni militants have never expressed a desire to rule outside Nigeria, the group is now seizing territory in Cameroon, Niger and Chad in an effort to expand its so-called "caliphate" internationally.
Boko Haram, which the U.S. designated as a terrorist group in 2010, now controls most of Nigeria's Borno state and a vast swath of the country's northeast. Its territory is nearly impossible to reach from the western part of the country, and Nigerian authorities are virtually invisible in the area. Boko Haram's battle-hardened fighters have spent the last month trying to seize land in other countries, too. In the first few weeks of their push to grow internationally, the group was staved off by regional forces. Now, though, the Sunni militants are increasing the intensity and frequency of their attacks and are infiltrating neighboring Niger, Chad and Cameroon en masse.
Boko Haram has been killing civilians in Nigeria since 2009. Data compiled by the Armed Conflict Location and Event Data Project, a research effort mostly focusing on African conflict, show the extremist group has killed more than 2,600 people since the beginning of 2015. More than 1,700 of those were residents of Baga, the town where the militants carried out their first mass slaughter. Since then, the terrorist group has killed civilians abroad as well. On Thursday alone, Boko Haram killed 260 people in Niger.
It is not clear exactly how many people have been affected by Boko Haram's campaign of violence. Aid organizations on the ground in Nigeria have estimated that about 2 million people are vulnerable to Boko Haram attacks. More than 1 million have been displaced from their homes, which is more than the number of Syrians displaced in the first year of that country's civil war, according to the Migration Policy Center at the European University Institute. In November 2012, there were 300,000 people displaced by the Syrian civil war, the United Nations High Commissioner for Refugees reported. At that time, the international community banded together to donate millions of dollars in medical aid and food to the refugees. In contrast, the people who are fleeing northeastern Nigeria are getting aid from just a few humanitarian groups with limited resources.
Young girls in Nigeria are some of the most vulnerable people in the country and have become victims of Boko Haram's violence. A young girl with explosives strapped to her small frame walked into a market in Maiduguri, Nigeria, one day last month. Minutes later, the girl, whose name is still unknown, had killed at least 19 people, including herself. She was just one of an estimated 20 young females Boko Haram enlisted to escalate its campaign of violence.
Despite the increasingly dire humanitarian crisis, the international community has yet to intervene. The lack of support is partially due to the Nigerian government's resistance to foreign assistance. The country's military has teamed up with forces from bordering countries to fight the terrorist group, but so far those efforts have been futile.
Nigeria is Africa's largest economy, supported mostly by oil profits. The country's leverage throughout the continent is at risk not only from violent insurgents, but also by a defunct and corrupt political system. The presidential elections have been delayed because of Boko Haram's campaign of violence.
It is difficult to tell what Boko Haram can gain by expanding internationally. It was only a few weeks ago that leaders from the group attempted to govern within Nigeria. They tried to lure Nigerians to the land the militant group occupies in the northeastern part of the country. The goal: to establish a formal governing system and a legitimate caliphate. The leaders claimed they would welcome Nigerians' return to their homes if they abided by the group's mandates. But those mandates are murky at best, and Nigerians have little incentive to join the group or support them.
There are doubts that a group like Boko Haram would be able to provide the services ISIS offers in Iraq and Syria. According to the U.N. and Doctors Without Borders, thousands of people are living in Boko Haram territory and are in need of humanitarian assistance.
One U.N. report said Boko Haram has restricted residents from using vehicles and leaving their homes. The group, according to the report, is in control of 20 of the 27 government areas in Borno state.
Even residents living in relatively safe towns are still in need of assistance. But aid groups can't get to them. As a result, hundreds of thousands are fleeing to the countries that Boko Haram is now targeting.
© Copyright IBTimes 2022. All rights reserved.
FOLLOW MORE IBT NEWS ON THE BELOW CHANNELS