Boko Haram Refugees Straining Local Resources In Nigeria, Aid Groups Say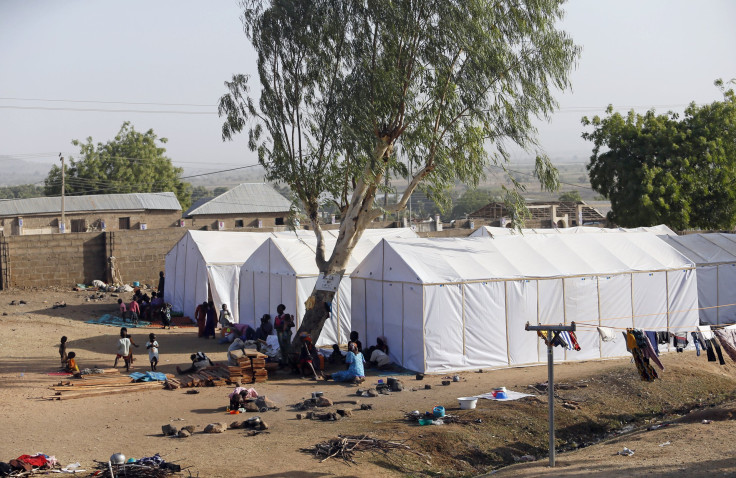 As Boko Haram attacks increase in northern Nigeria, millions of refugees fleeing the Islamist insurgent group are creating a strain on local resources, aid groups say. More than a million Nigerians have been displaced as they attempt to flee Boko Haram's violent attacks, according to the International Organization for Migration. They have settled in various cities around northern Nigeria, leaving aid groups and the Nigerian government scrambling to keep up with the growing demand for food and supplies.
"The increasing number of displaced people is placing significant pressure on available resources and the few existing services -- particularly health services, which are often dysfunctional," Doctors Without Borders said in a statement Friday. "Those communities who have taken in the displaced are also suffering from a resulting lack of food and education."
Refugee centers in many regions continue to receive people who fled a massive attack on the city of Baga in the state of Borno that is believed to be Boko Haram's deadliest ever, as evidenced by satellite images from Amnesty International that show widespread devastation.
In its current form, the Islamist insurgent group whose name educates loosely to "Western Education Is Forbidden," has been carrying out increasingly violent attacks in Nigeria's northern reaches since 2009.
The group gained international attention and notoriety last year when members kidnapped 200 schoolgirls from the town of Chibok. In recent months, it has carried out a series of deadly attacks on numerous locations in northern Nigeria, including the major city of Maiduguri this week, as reported by the New York Times.
In a video released Thursday, a Boko Haram representative introduced as Abu Musab Abul-Barnawi said that any residents who want to come back must live by the group's laws. This and another recent release echo similar communications from the Islamic State group, formerly known as either ISIS or ISIL, which could indicate that Boko Haram is looking to expand its influence.
With the Nigerian military being criticized for not being properly prepared to counter Boko Haram's attacks, neighboring nations have begun to get involved.
Elements of the military of neighboring country Chad reportedly took control Thursday of the strategic Nigerian town of Malum Fatori, which Boko Haram has controlled since October, according to the Associated Press.
The African Union announced a plan Friday to create a five-nation military force of 7,500 troops to fight the insurgents.
"Terrorism, in particular the brutality of Boko Haram against our people, are a threat to our collective safety, security and development," the organization's head, Nkosazana Dlamini-Zuma, said in a speech Friday, according to Sky News. "This has now spread to the region beyond Nigeria and requires a collective, effective and decisive response."
© Copyright IBTimes 2023. All rights reserved.