Boko Haram Update: Chad Bombs Islamist Militants In Nigeria, Several Dozen Killed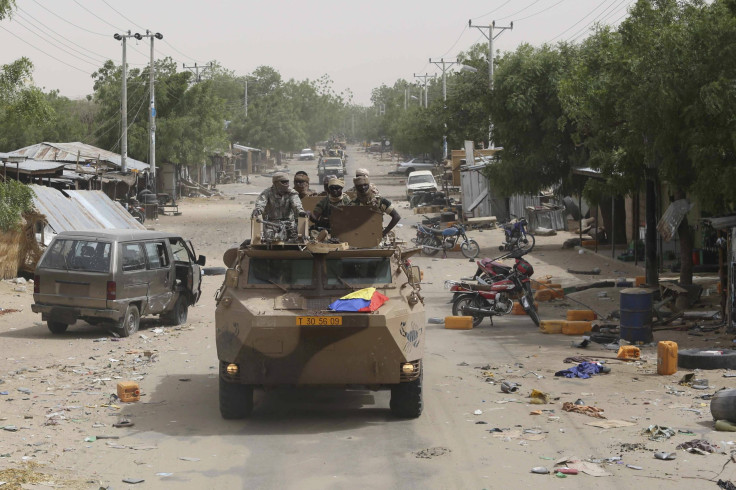 Chad continued its assault against Boko Haram fighters in Nigeria, with army helicopters targeting the militant group's positions along the border with Niger on Sunday. Chadian strikes killed several dozen Boko Haram fighters in the Nigerian village of Djaboullam, according to a senior Niger military official.
"Niger and Chad had received intelligence that a group of Boko Haram fighters had gathered in the border village," the officer told Reuters, adding that the fighters had moved to the location after they were chased from other towns by Nigeria's military.
Militants from Boko Haram have also been gathering in various border towns where they continue to launch mortar rounds into Niger. "We know they are massing in Malam Fatori, waiting for us to come," the officer said, in reference to another northeastern Nigerian town across the border from Niger.
Soldiers from Chad and Niger have joined forces from Nigeria and Cameroon in a joint mission to end the escalating Boko Haram insurgency as it has increasingly evolved into a regional threat, crossing into neighboring countries from its stronghold in northeastern Nigeria.
While billed as a joint offensive, the lack of cooperation between neighboring countries forces and the Nigerian government is growing increasingly evident. After Chadian and Nigerien troops succeeded in capturing the town of Damasak from militant fighters last week, officials in Chad expressed their disappointment at the almost total absence of support from Nigeria in the crucial effort.
"The Nigerian Army has not succeeded in facing up to Boko Haram," Chadian foreign minister Moussa Faki Mahamat told the New York Times. "The occupation of these towns, this is up to Nigeria. My fondest wish is that they assume their responsibilities." Foreign soldiers have also expressed their lack of desire to occupy Nigerian territory but worry that if they leave, the Islamist militants will simply return to take over the towns.
The emerging tensions come as Nigerian President Goodluck Jonathan assured the country that Boko Haram was growing weaker and that the territory seized by the militant group would be retaken within a month. Jonathan's government has been heavily criticized for its response to the Islamist insurgency, particularly amid a tightly-contested election campaign that his opponent Muhammadu Buhari has focused largely on the militant threat. Nigeria's elections are scheduled for March 28.
© Copyright IBTimes 2023. All rights reserved.
FOLLOW MORE IBT NEWS ON THE BELOW CHANNELS