Bombs Rock Bangkok As City Hosts Major Regional Security Meeting
A series of bombs exploded across Thailand's capital Bangkok on Friday as the city hosted a major Southeast Asian security meeting, which was attended by U.S. Secretary of State Mike Pompeo. Four people were injured in the incident. Reports say the bombs went off just prior to a speech by Pompeo, in which he commended Thailand's return to democracy.
The police confirmed that there were six bombs, three of them exploded at the government complex in Chaeng Wattana, two went off in the Chong Nonsi area and a ping-pong bomb went off in Suan Luang area, while one failed. Police Colonel Kamtorn Uicharoen told Reuters that in two areas, improvised explosive devices (IEDs) triggered by a timer was used. No group or individual has claimed responsibility for the explosions.
The four injured include three women who were cleaning the street when the bomb went off. Eyewitnesses said a security guard was also been injured near the 77-storey King Power Mahanakhon building.
The devices, according to the Guardian, were believed to be small homemade "ping-pong bombs" the size of a tennis ball, which were not designed to cause any major damage or casualties, and instead, appear to be placed to embarrass the new government.
Prime Minister Prayut Chan-o-cha condemned the incident saying it damaged peace and the country's image. The Prime Minister's Office ordered an immediate investigation. "The situation is being closely monitored and security measures have been tightened. The public is urged not to panic," an official statement said.
The Thai police, a day before, had found two fake bombs near the venue of the meeting of foreign ministers from the Association of Southeast Asian Nations (ASEAN) including leaders from the U.S., China and Russia.
With investigations continuing, it was unclear whether the meeting was being targeted.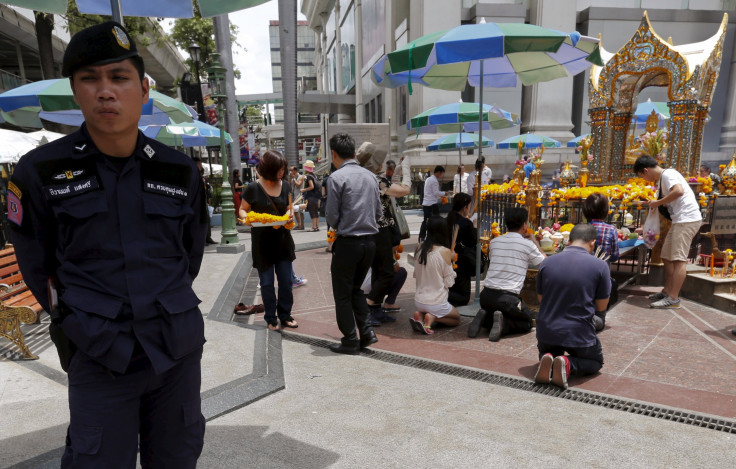 © Copyright IBTimes 2023. All rights reserved.