Bono Charity Says Rich Donor Countries Failed To Meet Aid Targets Last Year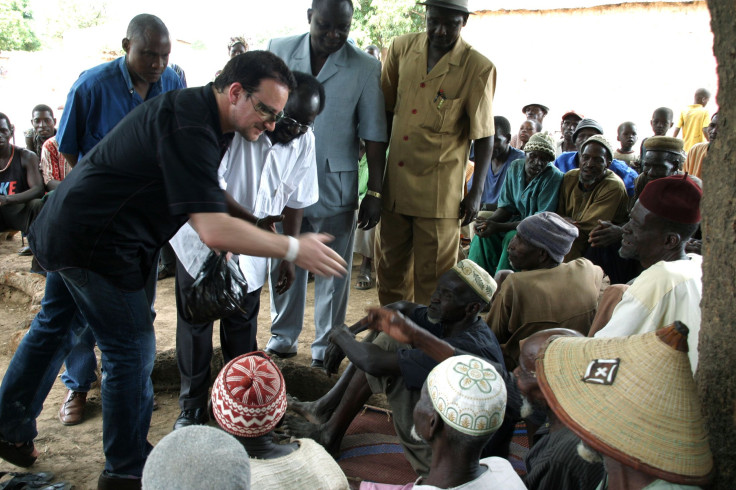 Most of the world's rich donor countries failed to meet their development aid targets last year, according to a report released Monday by The One Campaign (ONE), co-founded by Irish rock star Bono. Further, only one third of the money that was given went to the poorest countries.
The report comes as officials representing the Organisation for Economic Co-operation and Development's Development Assistance Committee (DAC) meet in Paris this week to discuss next year's aid budgets and goals.
After two years of decline, aid by members of the DAC increased 5.3 percent to a record $131.2 billion in 2013, the annual aid report said. But only a third went to the least developed countries, most located in sub-Saharan Africa, despite strong support for a goal that 50 percent of all aid would go to those nations, ONE said.
Seventeen of 28 DAC countries increased their development aid budgets, but despite the increases, their aid amounted to 0.29 percent of their wealth, less than half the U.N.'s target for aid spending at 0.7 percent of a nation's wealth, the report said.
Britain became the first country last year among the Group of 7 industrialized nations to meet the U.N. target. Japan, Germany and Norway also hiked their aid budgets, while France, Canada, Australia and the Netherlands cut their aid budgets. The U.S. spent 0.19 percent of national wealth on international development last year.
African governments could also spend more on programs to fight extreme poverty, ONE said. Only six out of 43 sub-Saharan African countries met their own spending goals on health, and only eight met goals on agriculture, ONE said. That's a loss of about $54.8 billion on health in the region between 2010 and 2012 if all sub-Saharan African nations had kept promises.
"There is enormous potential in African countries for governments to generate more of their own resources for development, and eventually to move beyond dependence on aid," the report said. "This includes both raising a greater amount of tax revenues and spending that money effectively, transparently and accountably to fight poverty. In the near term, aid can play a valuable role in this process by helping countries to reform their tax systems and budgeting practices."
DAC member nations should explicitly recommit to spending 0.7 percent of their wealth on development aid, agree on a more precise definition of what assistance qualifies as aid and improve transparency of their cooperation by publishing more and timely data on their aid, the report said. And African governments should broaden their tax bases with progressive fiscal policies and reduce corruption with such practices as disclosing payments to mining and oil and gas companies, ONE said.
© Copyright IBTimes 2023. All rights reserved.