Boston Celtics Are New 2022-2023 NBA Championship Favorites In Free Agency
A week into the 2022 free agency period, the NBA has a new betting favorite. The Boston Celtics now have the best odds to win the 2023 NBA Finals, surpassing the defending champion Golden State Warriors.
The Celtics lead the way with +500 odds at FanDuel Sportsbook to win next year's championship. Immediately after being eliminated by Golden State in the 2022 NBA Finals, Boston had +700 odds to win the title.
The Warriors and Celtics have swapped odds in just a couple of weeks. Golden State has gone from +500 favorites to tied for fourth with +700 championship odds. The Los Angeles Clippers also have +700 odds.
The Milwaukee Bucks are second with +550 odds to capture the 2023 championship. The Phoenix Suns have +650 odds, putting them first in the Western Conference and third in the entire league.
Two key offseason additions have propelled the Celtics ahead of the other contenders. Boston acquired Malcolm Brogdon in a trade with the Indiana Pacers, only giving up Daniel Theis, a 2023 first-round draft pick and other players who rarely saw the floor. The Celtics also signed Danilo Gallinari in free agency.
In three seasons with the Pacers, Brogdon averaged 18.9 points, 5.1 rebounds and 6.3 assists per game. Gallinari has shot better than 38% from three-point range in four straight seasons.
Both players have been injury-prone, but they could both come off the bench for Boston in the 2022-2023 season. Jayson Tatum, Jaylen Brown, Marcus Smart, Al Horford and Robert Williams are all set to return, following the team's run to the NBA Finals.
Phoenix has moved ahead of Golden State because of the Kevin Durant trade rumors. The Suns are viewed as the favorites to acquire the Brooklyn Nets' superstar, following his trade request.
Golden State is a possible, yet unlikely, destination for Durant. The Warriors lost Gary Payton II and Otto Porter Jr. in free agency.
Milwaukee added Joe Ingles in free agency. Ingles should be ready to play during next season after recovering from a torn ACL. The guard is a career 40.8% three-point shooter.
The Bucks might've won back-to-back championships had Khris Middleton not suffered an injury during the playoffs. Giannis Antetokounmpo is widely viewed as the best player in the NBA.
The Los Angeles Lakers and Miami Heat are tied for sixth with +1200 odds.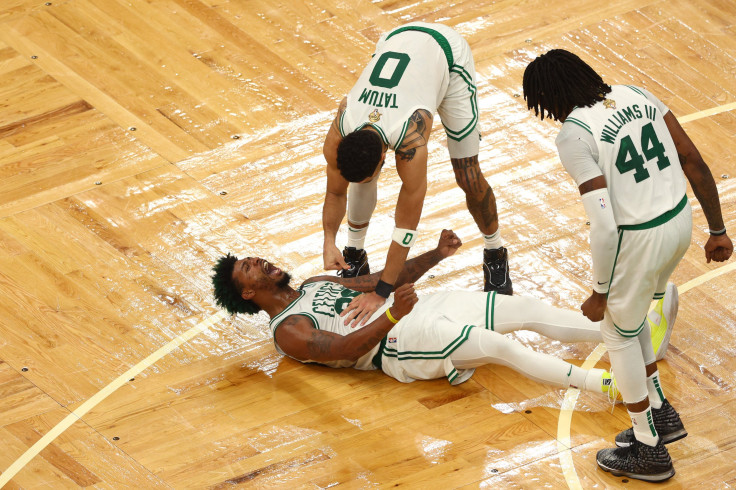 © Copyright IBTimes 2023. All rights reserved.