Kevin Durant Rumors: What The Nets Are Seeking In A Trade Offer
It's been five days since it was reported that Kevin Durant requested a trade, and the superstar remains with the Brooklyn Nets. Most NBA teams appear to be interested in acquiring Durant, but Brooklyn's asking price has prevented a deal from developing quickly.
The Nets want an All-Star level player and several first-round draft picks in a trade for Durant, ESPN's Adrian Wojnarowski reports. The return that the Utah Jazz received in exchange for Rudy Gobert last week is the baseline for what Brooklyn is seeking for the two-time NBA Finals MVP, according to Wojnarowski.
Utah traded Gobert to the Minnesota Timberwolves for five players, four future first-round draft picks and the option to swap first-round picks in 2026. One of the players in the trade was Walker Kessler, the No. 22 overall pick in this year's draft. The Nets are seeking four to five first-rounders in a trade.
Durant has four years left on his contract, and Brooklyn is aiming to take the best offer available. While Durant has reportedly highlighted some preferred destinations, the Nets won't trade with those teams if other suitors present much better offers.
The Phoenix Suns are reportedly atop Durant's wish list. The Suns can offer the Nets four first-round picks as well as pick swaps. Because Phoenix is unwilling to part with Devin Booker, Deandre Ayton and Mikal Bridges would probably have to be the centerpiece of a deal. Neither player has made an All-Star team, and including Ayton could be complicated because he's a restricted free agent.
The Miami Heat, also on Durant's wish list, likely can't compete with Phoenix's offer. The league's rules prohibit Ben Simmons and Bam Adebayo from being on the same roster because of their contracts, so Tyler Herro would have to be the best young player in a deal between Miami and Brooklyn. The Heat don't own their 2023 first-round pick.
The Toronto Raptors continue to be mentioned as a possible Durant suitor. The team's willingness to include Scottie Barnes in a trade package might determine their chances of landing Durant.
The New Orleans Pelicans can put together one of the most impressive trade offers for Durant. Brandon Ingram has an All-Star appearance on his resume and is only 24 years old. The Pelicans can offer the Nets a boatload of picks because of the first-rounders they acquired by trading Anthony Davis and Jrue Holiday.
The Golden State Warriors have also been linked to Durant, three years after he left the franchise for Brooklyn.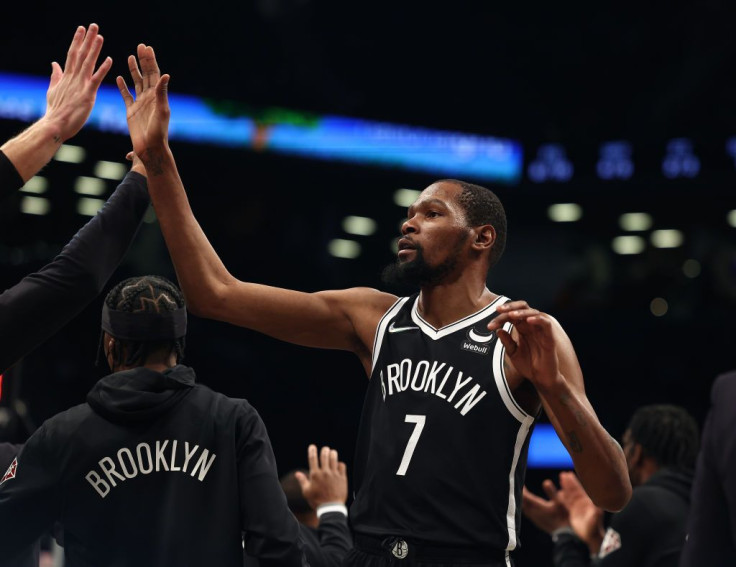 © Copyright IBTimes 2023. All rights reserved.