Boston Celtics Rumors: Jimmy Butler Trade Coming After Sending Draft Pick To Philadelphia 76ers?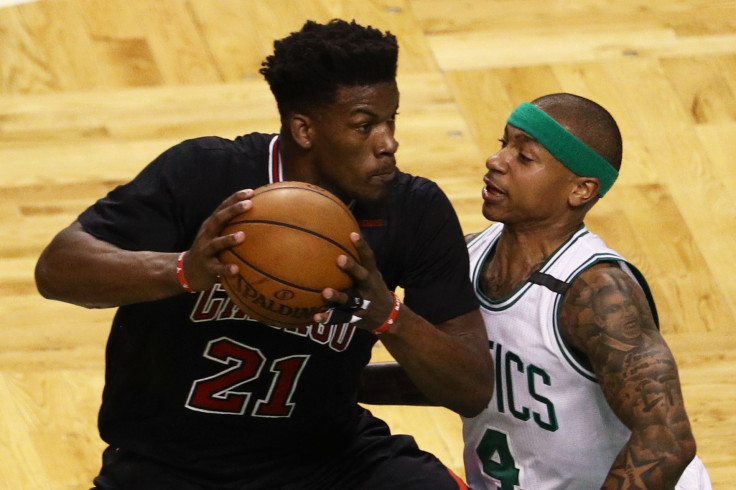 The Boston Celtics made the first big splash of the offseason by agreeing to trade the No.1 overall pick in the 2017 NBA Draft to the Philadelphia 76ers, and it might be the precursor to an even bigger deal. After acquiring the No. 3 overall pick this year and a future first-round selection, the team that had the best record in the Eastern Conference has positioned itself to trade for an All-Star.
By passing on Markelle Fultz, the Celtics should be more than capable of putting together a package that could land them Jimmy Butler or Paul George. Boston reportedly engaged in trade talks with both the Chicago Bulls and Indiana Pacers at February's deadline, and adding one of the two players might make the Celtics a viable threat to LeBron James and the Cleveland Cavaliers.
READ: Cavs, Spurs, Celtics Are Top Contenders To Warriors In 2018
It's hard to say if adding Butler or George would make Boston a legitimate contender to win the 2018 NBA Finals. The Golden State Warriors looked unbeatable with Kevin Durant, and James has owned the East for the last seven years. The Celtics were heavily outmatched in the conference finals, losing to the Cavs four times by at least 13 points and twice by 33 points or more.
Cleveland, however, seems to feel that Boston can close the gap by adding one of the East's top stars.
"The Cavs were on pins and needles yesterday about the Celtics getting Paul George or Jimmy Butler, said ESPN's Brian Windhorst on Zach Lowe's "The Lowe Post" podcast in February. "Pins and needles. That's why I'm saying. Let's put it this way: if on day one next year it's Gordon Hayward, Al Horford, and Isaiah Thomas, the Cavs will be like 'okay, that's going to be a challenge.' If it's Isaiah Thomas, Al Horford and Jimmy Butler, the Cavs might be out there saying 'we may have to trade Kevin Love.'"
Assuming Boston isn't averse to giving up multiple draft picks, they should have a good chance to get a trade done. Because of various trades, the Celtics will likely have seven first-round draft picks over the next three years. If the 76ers, Brooklyn Nets and Los Angeles Lakers all miss the 2018 playoffs, Boston could have three lottery picks in next year's draft.
Trading for George could be complicated, considering he's reportedly eying the Lakers in 2018 free agency. Boston might be unwilling to give up multiple assets for a player that could leave after one year. Indiana isn't actively shopping their star forward, though it might only be a matter of time until they decide to trade George and avoid losing him for nothing next summer.
Getting a trade done with the Bulls makes more sense. Butler is under contract for two more seasons before he can go anywhere as a free agent. The Bulls tried and failed to put together a contender when they signed Dwyane Wade and Rajon Rondo last year, and they're seemingly open to breaking up their core for the right deal.
Boston received plenty of criticism at the trade deadline for not giving up any of their assets in exchange for a real shot of making the 2017 Finals. For many, trading this year's first overall pick is more of the same, acquiring future selections and hoping to contend once James is no longer in his prime.
That theory doesn't exactly coincide with what the Celtics have reportedly offered in the way of trades. The Vertical's Adrian Wojnarowski reported that Boston was prepared to give up this year's first-rounder in a deal for Butler, but Chicago was looking to acquire a few of Boston's key rotation players. Indiana wanted a similar package, reportedly asking for the likes of Jae Crowder, Marcus Smart and Avery Bradley.
READ: LeBron James' 2017 NBA Finals Proves He's Still The World's Best Basketball Player
The Celtics didn't trade the top pick to Philadelphia just so they could acquire an established superstar. Boston is reportedly passing on Fultz because they already have one of the league's best backcourts and aren't convinced that the Washington product is far and away the best player in this year's draft class.
But don't be surprised if Boston finally pulls the trigger on a deal that makes them the biggest threat the Cavs have faced in the East since James made his return in 2014. With Gordon Hayward and Blake Griffin also being targeted by the Celtics in free agency, Boston is the team to watch this offseason.
© Copyright IBTimes 2023. All rights reserved.