Boston Red Sox vs. Cleveland Indians: Prediction, Betting Odds, Series Preview For 2016 ALDS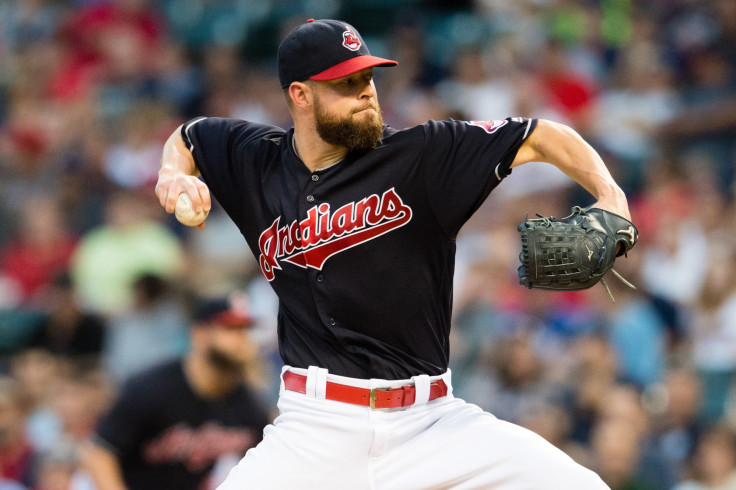 The Boston Red Sox and Cleveland Indians are both back in the MLB playoffs for the first time since 2013. They'll face off in the 2016 American League Division Series, starting with Game 1 on Thursday.
Cleveland has home-field advantage, having won the AL Central with 94 victories, finishing ahead of the Detroit Tigers and defending champion Kansas City Royals. Boston won MLB's toughest division with 93 games, finishing ahead of the Baltimore Orioles and Toronto Blue Jays, who faced off in the AL Wild-Card Game.
The winner of the series will go on to face either the Blue Jays or Texas Rangers in the ALDS. Unlike the NL, there is no overwhelming favorite in the AL, and both the Red Sox and Indians are legitimate World Series contenders.
Pitching
If this series took place a few weeks ago, the Indians would have had a significant advantage in the rotation. But injuries have weakened what was once Cleveland's strength.
Starting pitchers Carlos Carrasco and Danny Salazar will both miss the ALDS, likely forcing Cleveland to go to a three-man rotation. Carrasco's 3.32 ERA would be good for eighth in the AL if the pitcher's hamstring injury didn't keep him a few innings shy of officially qualifying. Salazar led the team with 10.55 strikeouts per nine innings before straining his right forearm. Cleveland ace Corey Kluber has been relegated to starting Game 2 because of a quad strain.
That leaves Trevor Bauer and his 4.26 ERA to start the series opener, and likely Game 4, if necessary. Josh Tomlin, who had a few good starts after being moved to the bullpen for a short time, gets the call in Game 3.
The Red Sox have plenty of questions in their rotation. Boston will send Rick Porcello and David Price to the mound to start the series. Porcello is a Cy Young candidate, earning the Game 1 start over Price. While Price has had a down year with a 3.99 ERA, he's long been one of the AL's best pitchers. The left-hander, however, has been historically awful in the playoffs with a 5.12 ERA.
Clay Buchholz goes in Game 3 and Eduardo Rodriguez is in line to start a possible Game 4. Both pitchers have an ERA north of 4.70. Buchholz was improved in September with a 3.14 ERA in five starts, and Rodriguez has a 3.24 ERA since the All-Star Break.
Both teams are strong in the bullpen. Cody Allen and Andrew Miller are tough to beat in the eighth and ninth inning, while the emergence of Joe Kelly potentially gives Boston a very deep bullpen.
Hitting
They're the top two scoring teams in the AL, and questions in both rotations could make for a high-scoring series. But the Red Sox have the best offense in MLB, and they have the clear advantage in the ALDS.
The Red Sox ended the season with 878 runs, putting them 101 runs ahead of the Indians. Boston's batting average (.282), on-base percentage (.348) and slugging percentage (.461) are also tops in the league. Even if Cleveland's rotation was completely healthy, it probably wouldn't be able to slow down Boston's lineup.
Mookie Betts, Dustin Pedroia and David Ortiz all finished in the top six in batting average, and Ortiz and Betts are legitimate MVP candidates. Ortiz had maybe the best regular-season of any offensive player in the final season of his career, leading all of baseball with a 1.021 OPS. Xander Bogaerts and Hanley Ramirez combined to hit 51 home runs and drive in 200 runs, giving the Red Sox MLB's deepest lineup.
Cleveland's lineup is led by the left side of their infield. Jose Ramirez and Francisco Lindor both hit over .300 while combining to steal 19 bases. Carlos Santana and Mike Napoli both hit 34 home runs each, and Jason Kipnis is among MLB's top second basemen with a .811 OPS.
Prediction
Boston is a -165 favorite, via BetOnline, while Cleveland has +145 betting odds. The Indians have the better record, but the Red Sox are the better team as the playoffs begin. Boston's offense is far superior to Cleveland's, and the Indians will have a very tough time slowing down the Red Sox lineup with such a banged up rotation.
Series Prediction: Boston in four games
© Copyright IBTimes 2023. All rights reserved.