Boycott The Olympics? Sochi 2014 Becomes Unlikely Platform For Gay Rights Debate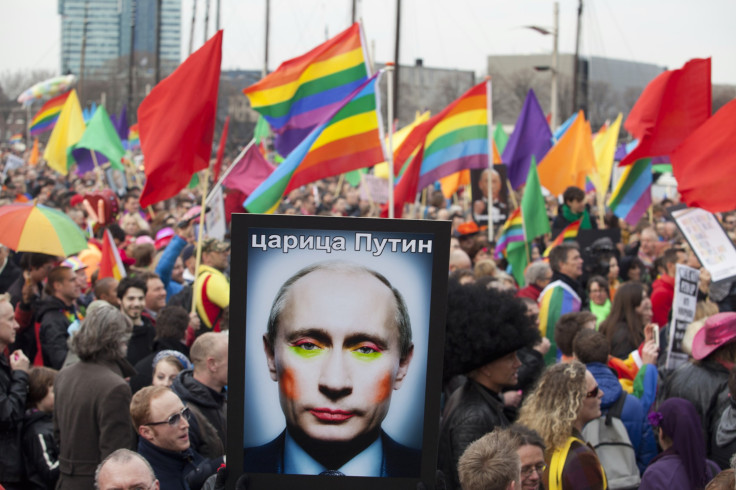 Several weeks after Russian President Vladimir Putin signed draconian antigay legislation into law prohibiting the dissemination of "propaganda of nontraditional sexual relations," world condemnation has reached a fever pitch, with several activist groups and celebrities reigniting calls for a boycott of the 2014 Sochi Olympic Games.
Actor and playwright Harvey Fierstein stirred the pot with a now-viral July 21 op-ed in the New York Times claiming Putin had "declared war on homosexuals" and that "the world has mostly been silent."
"Just six months before Russia hosts the 2014 Winter Games, Mr. Putin signed a law allowing police officers to arrest tourists and foreign nationals they suspect of being homosexual, lesbian or 'pro-gay' and detain them for up to 14 days," he wrote. "Contrary to what the International Olympic Committee says, the law could mean that any Olympic athlete, trainer, reporter, family member or fan who is gay -- or suspected of being gay, or just accused of being gay -- can go to jail."
Fierstein implored American and world leaders to speak out against Putin. He also demanded that the International Olympic Committee ask Russia to retract its antigay laws under threat of boycott.
"In 1936 the world attended the Olympics in Germany. Few participants said a word about Hitler's campaign against the Jews. Supporters of that decision point proudly to the triumph of Jesse Owens, while I point with dread to the Holocaust and world war. There is a price for tolerating intolerance," Fierstein warned.
To underscore Fierstein's point, the Moscow-based Russian LGBT Network warned that four Dutch tourists were detained on Monday for "propaganda of nontraditional sexual relations" after filming a forum at a Youth for Human Rights camp, despite having visas for "cultural relations." Authorities fined and deported them, but the Dutch nationals could still face charges in court, which LGBT Network said would be the first de facto legal application of the new law.
New York-based RUSA LGBT, which spearheaded the campaign to boycott the Olympics, said this is a sign of what's to come. "The new antigay law is very vague," Co-President Nina Long warned. "You can be fined for it, and if you are a foreign citizen you can be detained for up to 15 days and deported. If you use media to communicate your 'propaganda' online or in a newspaper, these penalties can be significantly larger."
Long pushed for an Olympics boycott after the antigay laws, once localized to cities such as St. Petersburg, spread nationwide to new places including Sochi. She said the safety of the LGBT community and LGBT visitors to Russia changed drastically.
Yet, a proposed boycott has angered some openly gay athletes including three-time U.S. men's figure skating champion Johnny Weir, who's expected to compete in his second Olympics next year.
"The fact that Russia is arresting my people, and openly hating a minority and violating human rights all over the place is heartbreaking and a travesty of international proportions," he said in prepared statement on Thursday. "I respect the LGBT community full heartedly, but I implore the world not to boycott the Olympic Games because of Russia's stance on LGBT rights, or lack thereof.
"I beg the gay athletes not to forget their missions and fight for a chance to dazzle the world. Olympics are history, and they do not represent their host, they represent the world entire."
Long countered that it's an honor to hold the Olympic Games, and questioned, "how can you honor a country that promotes state-sponsored hate against a community?" Nevertheless, she said she supports athletes who want to compete in the Games and said they were never the target of the boycott. The main goal, Long added, was to get the IOC to move the Games someplace else such as Vancouver, which already has the infrastructure from hosting the 2010 event.
Beyond a boycott of the Olympics, columnist and gay rights advocate Dan Savage called on gay bars across America on Wednesday to boycott Russian vodka. His viral campaign compelled the popular international brand Stolichnaya to release a statement in support of LGBT rights.
"Stolichnaya Premium Vodka stands strong and proud with the global LGBT community against the actions and beliefs of the Russian government," the privately owned company said on its Facebook page. Long said this set an example for other companies with Russian ties that "you can take a stand and say 'Our policy is to be pro-human rights and we're going to be outspoken in our position'." She noted that there was no other major company associated with Russia that has so strongly opposed Putin's law.
The Human Rights Campaign has also taken issue with the new law in respect to the Olympics, though it hasn't called for an outright boycott. President Chad Griffin sent a letter Wednesday to NBC Universal, which has exclusive rights to broadcast the Olympics in the U.S., urging the company "to expose [Russia's] inhumane and unjust law to the millions of American viewers who will tune in to watch the Games.
"You no doubt agree that it wouldn't be right to air the opening ceremonies, which is an hours-long advertisement for the host country, without acknowledging that a whole segment of the Russian population -- not to mention foreign athletes and visitors -- can be jailed for an immutable aspect of their identity," Griffin wrote.
In response, NBC Universal issued a generic statement, saying it "strongly supports equal rights and the fair treatment" for all people. "The spirit of the Olympic Games is about unifying people and countries through the celebration of sport, and it is our hope that spirit will prevail."
The Switzerland-based IOC also issued a statement this week, saying it would "work to ensure" the Olympic Games is open to all, free of discrimination, including spectators, officials, media and athletes. "We would oppose in the strongest terms any move that would jeopardize this principle," the IOC said. "It remains to be seen whether and how [the new law] will be implemented, particularly as regards the Games in Sochi."
The IOC said any wider political issues in the country were best dealt with by other international organizations "more suited to this endeavor." Critics, however, say a lack of concrete guarantees from the Russian government amount to a blatant violation of Russia's international legal obligations to guarantee nondiscrimination and respect for freedom of expression at the Olympic Games.
© Copyright IBTimes 2023. All rights reserved.