Sochi 2014 Olympics Unsafe For LGBT Community Under Russia's Anti-Gay Law, Activists Warn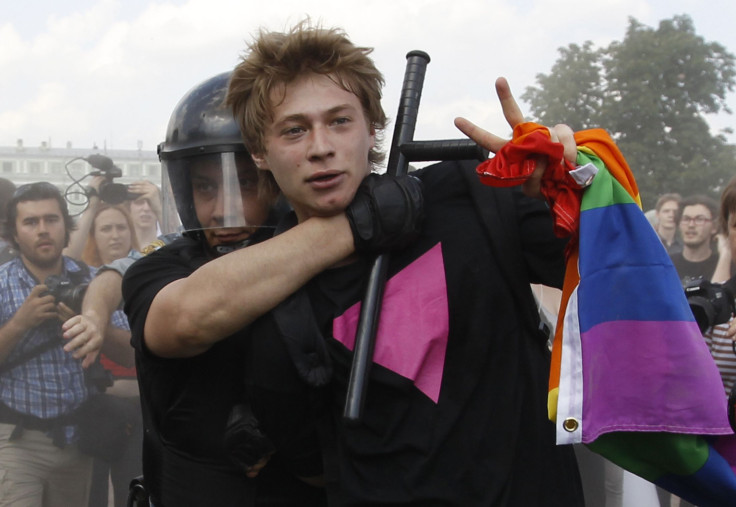 As host of the 2014 Olympics in Sochi this coming February, Russia will open its arms to visitors from around the world -- so long as they're not gay, lesbian, bisexual or transgender. At least, that's what gay rights activists fear after the government passed one of the most draconian anti-gay laws on the planet this week.
RUSA LGBT, a Russian-speaking American association for members of the gay community, has called for a boycott of the Sochi Olympics. It said gay athletes and spectators would not be safe in Russia after a law passed last month in Russia's Parliament and signed earlier this week by President Vladimir Putin banned "propaganda of non-traditional sexual relations" and established steep fines for anyone equating the value of same-sex relationships with those between individuals of the opposite sex. Foreigners charged with such "propaganda" could be subject to arrest, 15 days in jail, deportation and fines up to $3,000.
Travel industry website eTurboNews notes: "It is now literally illegal in Russia to say that you are gay. It is illegal to kiss your partner in public -- say, after you win a gold medal. It is illegal for a gay athlete to wear the rainbow flag. Or even to acknowledge during an interview that they are gay -- or for the foreign press to acknowledge it -- unless they mention that gay sexual orientation in a negative way."
In response to the new legislation, the International Olympic Committee reiterated its "long commitment to non-discrimination against those taking part in the Olympic Games." The Switzerland-based body also stated, "Athletes of all sexual orientations will be welcome at the Olympic Games." However, RUSA LGBT is not convinced.
"We want to know how they can ensure this in a country with state-sponsored homophobia backed by federal law? How can one attend the Sochi Olympics without compromising one's integrity by supporting the economy of a country that promotes hate against the LGBT community?"
The gay rights organization said the Russian Federation had shown little regard for the freedoms of all of its citizens and instead "promoted a vicious onslaught of state-sponsored homophobic legislation to distract the public from government corruption and other social ills."
Boris Dittrich, advocacy director at Human Rights Watch, sent a letter to IOC Director General Christophe De Kepper last month before the anti-gay law passed that detailed the group's concerns. Dittrich called the law "clearly incompatible with the Olympic Charter's promotion of 'human dignity,' as well as a blatant violation of Russia's international legal obligations to guarantee non-discrimination and respect for freedom of expression." He continued by asking the IOC to "ensure, without distinction, the safety and the freedom of expression and association of all athletes, coaches, fans and others who will attend the Sochi Games."
Human Rights Watch also expressed concerns that Russia had impeded efforts to create an Olympic Pride House in Sochi, potentially ending an Olympic tradition that began in Vancouver. Its founders hoped to offer information regarding homophobia in sports and promote LGBT rights during the Games, but Russian authorities said the Pride House would "contradict the foundations of public morality and government policy in the area of protection of the family, motherhood and childhood." The organizers have since appealed to the European Court of Human Rights.
Some gay rights activists like RUSA LGBT have asked corporate sponsors and partners of the Sochi Olympics -- including Coca-Cola, VISA, Omega Watches, PriceWaterhouseCoopers, Procter & Gamble, Samsung and Panasonic -- to withdraw their support and funding unless Russia can ensure the safety of all visitors to the Olympic Games. A poll conducted Tuesday by the U.K.'s Guardian newspaper, meanwhile, found that 56 percent of readers believed the U.S. should boycott the Olympics altogether because of Russia's anti-gay law.
© Copyright IBTimes 2023. All rights reserved.