Bravia OLED TV Highlights Sony's Otherwise Brief, Disappointing CES Press Conference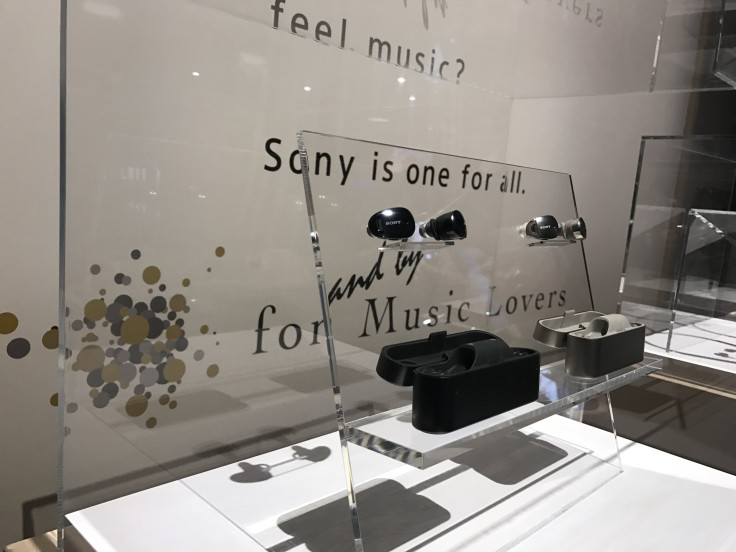 Sony's CES 2017 press conference was barely 20 minutes Wednesday evening in Las Vegas. Its cheery CEO Kazuo Hirai talked about Sony PS4 sales, some wireless earbuds, a names projector concept, a few video camera and a couple TVs.
The brief, especially for CES, press conference failed to garner much of a reaction from the packed house inside the Las Vegas Convention Center. While the Sony CES 2017 press conference failed to deliver any huge tech news there are a few items with highlighting, especially the Bravia OLED A1E TV.
The super thin 4K TV features a stunnding display but its most notable feature is its speakers, or lack thereof. Sony's Bravia OLED TV has no speakers on the back, side or bottom of the set. The sound actually comes from from the screen itself, a first for the industry Hirai said.
"The sound comes directly from the screen screen," Hirai said Wednesday. "(It) vibrates the display to produce the awe-inspiring sound. It's enabled by single structure of the OLED display. There are no separate speakers."
While the new speaker technology was the standout, outside of the gorgeous crystal clear picture, Hirai didn't demo the sound innovation itself. A price and release date were not announced. According to the Verge, the A1E Bravia OLED TV will come in three sizes: 55, 65 and 77 inches.
Sony Wireless Earbuds
Another new product from Sony at CES 2017 is its wireless earbud line. While there was no demo the wireless earbuds feature Sony's noise cancellation technology and comes in two models; a band that connects around the back of your head/neck and another pair that are attached to nothing.
While Hirai obviously didn't mention Apple or Samsung, Sony's new earbuds (that have no name) should work with the headphone jack-less iPhone 7 and 7 Plus. The Samsung Galaxy S8 is also rumored to follow Apple's lead and remove the headphone jack. The earbuds were not available to try and Sony did not say how much they would be or their release date.
Sony PS4, PSVR Sale Numbers
Hirai briefly touted the success of the PS4 and the PSVR. According to Hirai, 6.2 million units were sold this past holiday season, pushing the PS4 total sale numbers to more than 53 million since its launch. Sony said it was proud of the sales of the PSVR, which launched October 2016, but Hirai did not mention any specific numbers.
"We are able to provide a dramatic, transformative, new gaming experiences and our ambitions in VR are not limited just to gaming," he said.
© Copyright IBTimes 2023. All rights reserved.
FOLLOW MORE IBT NEWS ON THE BELOW CHANNELS