Brazil Pollution: CO2 Emissions From Energy Have Doubled As Drought Puts Strain On Hydroelectric Supplies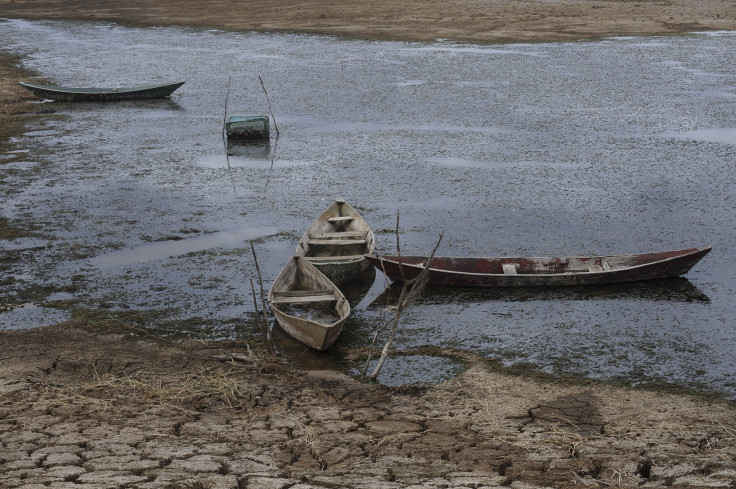 Brazil's power sector has doubled its global warming emissions in the past two years, a new analysis found. The uptick threatens to offset some of the country's gains in slowing deforestation – an effort that climate groups say has led to dramatic cuts in carbon dioxide pollution. That could diminish the government's negotiating power ahead of global climate talks in Paris next year, analysts say.
From January to July 2014, the cumulative monthly average of emissions grew by 182 percent for every one megawatt-hour of electricity produced, compared with the same period in 2012, according to data from Brazil's Ministry of Science, Technology and Innovation, São Paulo-based newspaper Valor Economico reported on Thursday (link in Portuguese).
Overall, the energy sector accounts for about 30 percent of Brazil's total greenhouse gas emissions.
The rise in emissions is largely tied to the country's enduring drought. In a normal year, Brazil gets about nearly all of its electricity from hydropower, but record-low rainfall coupled with surging demand is forcing power operators to burn more natural gas, petroleum and coal to keep the lights on.
In São Paulo state, the country's major industrial and economic hub, rainfall over the past year is more than 17 inches below normal, causing the state's worst dry spell in nearly eight decades, according to Accuweather.com. As a result, São Paulo's reservoirs are at historically low levels, with the main Cantareir watershed less than 100 days from running dry.
Two years ago, hydroelectric power accounted for 89 percent of electricity production from January to July, while fossil fuels accounted for 7.3 percent of the mix. This year, hydroelectric is down to about 75 percent of the total, with fossil fuels rising to about 22 percent, Valor Economico said, citing data from the national electricity operator.
The findings contradict Brazil's global image as a major crusader in the fight against climate change. A study in Science magazine in June praised Brazil for doing more than any country to reduce greenhouse gas emissions. Researchers found that, by reducing deforestation by 70 percent, Brazil managed to keep 3.2 billion tons of carbon dioxide out of the atmosphere – about seven times Brazil's total emissions in 2012.
"Brazil has always appeared as a hero abroad – and rightly so – because it's one of the few countries in the world that has reduced deforestation and emissions," Jose Goldemberg, a research scientists and University of São Paulo professor, told Valor Economico.
Brazil is among a group of developing nations that is arguing for a lesser role in a global pact to reduce emissions. Along with China, India and South Africa, the country maintains that richer nations – namely the United States – should shoulder more of the burden, since those economies created the bulk of historical emissions. Brazil sees its dramatic deforestation efforts as a crucial bargaining chip ahead of the United Nations climate conferences in Peru in December and in Paris in 2015, Bloomberg News reported earlier this month.
Now, the country's rising reliance on fossil fuels could put that in jeopardy, Goldemberg said. "With energy emissions growing this way, it's going to lose the privileged position it occupies in the negotiations on climate," he told Valor Economico.
Despite the energy emissions increase, however, analysts said that Brazil is still likely to meet its goal of reducing emissions by at least 36 percent in 2020, thanks to continued efforts on deforestation and slower-than-expected economic growth.
© Copyright IBTimes 2023. All rights reserved.