Brazilian Police Killed 11,000 People From 2009 To 2013, Study Finds 'Abusive Use of Lethal Force'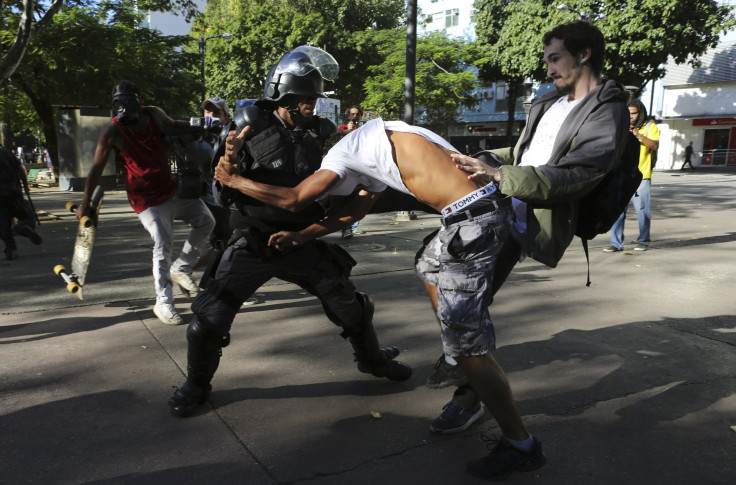 Brazilian police killed more than 11,000 people between 2009 and 2013, according to a study conducted by the Brazilian Forum on Public Safety. Officers in the South American nation killed 2,212 people in 2013 alone, while nearly 500 officers were killed in the line of duty.
"The empirical evidence shows that Brazilian police make abusive use of lethal force to respond to crime and violence," the study said, according to the Associated Press. In addition, 416 people were killed in Rio de Janiero in 2013, the highest per-capita rate of the year.
More than 50,000 people were killed last year in homicides, the study also found. Of those victims, nearly 70 percent were black. Brazilian police were also criticized for their frequent execution of suspects.
By comparison, the average number of people killed by police in America is about 400, the Wall Street Journal reports. Police in the United States have killed 11,090 in the past 30 years, despite a citizen population more than 1.5 times larger than that of Brazil.
Many Brazilian states don't keep records of violent actions by police, the newspaper added. In addition, some have criticized the Brazilian Forum of Public Safety's report over its omission of homicides carried out by off-duty police in vigilante killings. Authorities in the Brazilian city of Belém are investigating the deaths of nine individuals who may have been victims of vigilante homicide.
Police brutality was considered a major issue ahead of the 2014 FIFA World Cup, which Brazil hosted this past summer. Demonstrators took to the streets of Rio de Janeiro to protest the government's decision to spend millions on the international soccer tournament instead of focusing on domestic issues. Brazilian police used tear gas, stun grenades and rubber bullets to subdue crowds, resulting in several injuries. Protesters responded by throwing bottles and rocks.
© Copyright IBTimes 2023. All rights reserved.