Brazil's Dilma Rousseff's Popularity Ratings Down To 20-Year Low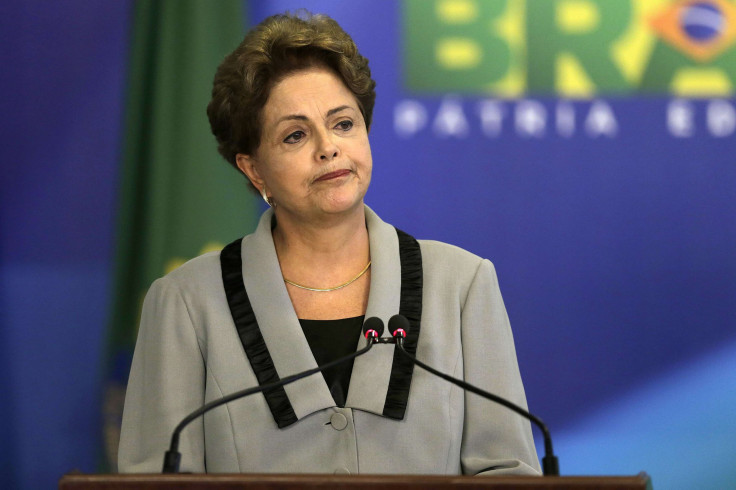 Fresh off a weekend of protests and a corruption investigation that continues to widen, Brazil's President Dilma Rousseff is facing more sour news. Polls released Wednesday show Rousseff with the lowest approval ratings a Brazilian president has had in more than 20 years.
According to the latest figures from polling firm Datafolha, 62 percent of respondents said they disapproved of Rousseff's performance, and just 13 percent said she was doing a "good" or "excellent" job. The remaining respondents gave her a more tepid rating, describing her performance as just OK.
Wednesday's figures mark a precipitous drop for Rousseff's popularity, which stood at 42 percent as recently as December. Local media noted that no other Brazilian president had such dismal figures since 1992, during the presidency of Fernando Collor de Mello, who was impeached shortly thereafter.
Rousseff has been caught in a torrent of economic and political crises that have badly damaged her image in recent weeks. Amid a weakening real and an economy slouching toward recession, she has pushed a series of austerity measures to rein in the government budget but faced stiff resistance from members of Rousseff's Workers' Party.
Meanwhile, dozens of Workers' Party members are facing investigations over possible involvement in a bribery and kickback corruption scheme with state-run energy company Petrobras, a scandal that has roiled the country and brought Petrobras' ratings down to junk status. This week the Workers' Party treasurer was charged with corruption in relation to the scheme, placing even more pressure on the president.
Rousseff, who was chairwoman of Petrobras' board at the time of the alleged corruption, denied that she knew of any wrongdoing. But that hasn't convinced some Brazilians: Hundreds of thousands of people took to the streets Sunday to show their dissatisfaction with the president, with many calling for her impeachment in light of the scandal.
Meanwhile, members of the Brazilian Social Democracy Party, the main opposition group, said Tuesday they would soon call on the Supreme Court to launch a probe into Rousseff's possible involvement or knowledge of the alleged graft at Petrobras.
© Copyright IBTimes 2023. All rights reserved.