Brazil's Rousseff Asks For Patience As Cities Gear Up For Weekend Protests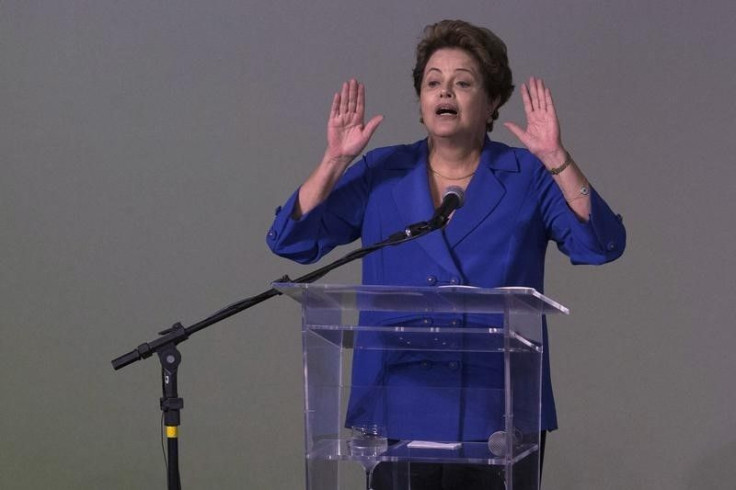 There's little to be optimistic about in Brazil these days. Just three months into President Dilma Rousseff's second term, the country is slouching toward a recession while dozens of politicians face investigations over the corruption scandal at state-run oil company Petrobras. Meanwhile, calls for the president's impeachment have only grown louder -- and while predictions for her ouster are still low, there's little indicating that Rousseff's fortunes may reverse anytime soon.
Rousseff went on the defensive in an address Sunday, asking for "patience" with increasingly unpopular austerity measures she implemented late last year. "We're going through temporary problems, but our fundamentals continue strong," she said.
The speech, which was aimed at marking International Women's Day, was her first national address since her Jan. 1 inauguration. Rousseff said the austerity measures -- reining back government spending, tax credits, and unemployment and social security benefits -- were short-term sacrifices to restore balance to the government's coffers. Politicians from within Rousseff's Workers' Party have resisted the cuts in benefits, and last week the Senate threw out the president's provisional decree to scale back payroll tax breaks.
Small protests reportedly broke out following her speech, with residents in some Rio de Janeiro neighborhoods banging pots in a sign of disapproval, according to local media. The hashtag #VaiaDilma ("Boo Dilma") also became a top-trending hashtag on Twitter through Monday.
A March 6 survey of around 100 economic analysts forecasted that Brazil, the world's seventh-largest economy, would shrink by around 0.66 percent, Bloomberg reported. The economists also predicted 7.77 percent inflation for the year, above the government's 6.5 percent target. The real, meanwhile, weakened to a 10-year-low last week at 3 to the dollar. On Monday it fell further, to 3.1 reals to the dollar, marking a 14 percent decline since the beginning of the year.
Brazil's central bank has tried to cope with the falling currency by boosting interest rates, hiking them to 12.75 percent Wednesday -- a move that economists said could put the country at risk of a deeper recession for the year.
But the economy, gloomy as it seems, may still fall behind the Petrobras scandal as the thing that poses the most danger to Rousseff's presidency. Last week, Brazil's Supreme Court gave a green light to the investigation of 54 politicians -- including a former impeached president and speakers of both chambers of the legislature -- who are suspected of involvement in a bribery and kickback scheme with executives of the state-run energy company.
The scandal, which came to light last year after a former Petrobras executive admitted to inflating the value of construction contracts in the mid-2000s, with payoffs given to members of Rousseff's Workers' Party, has been one of Brazil's biggest corruption sagas in recent years. The allegations have reduced credit agencies' ratings of Petrobras to junk status as the company's shares plummeted more than 50 percent last year.
The scandal has also heightened calls for Rousseff's impeachment. The president, who was chairwoman of the Petrobras board during the time period in which the alleged corruption occurred, is not facing investigation, and she's insisted that she knew nothing about any wrongdoing while she was in that position. But some senior opposition politicians said last month that they haven't ruled out impeachment in the event that any investigation turns up evidence that she was aware of any corruption.
But much damage has already been done to Rousseff's image: According to a Datafolha poll published last month, 77 percent of respondents said they believed Rousseff had some knowledge of the bribery scheme while she was chairwoman of the board, and her approval ratings sank to 23 percent, the lowest of any Brazilian president since 1999.
Brazilian opposition groups are gearing up for mass protests on March 15 to call for Rousseff's ouster, and the turnout at those demonstrations, scheduled to occur in 12 cities, could provide further signals on where Rousseff's political fortunes may go in the months ahead.
© Copyright IBTimes 2023. All rights reserved.