Brazil's World Cup Loss Could Upend Nation's Stock Market And Economy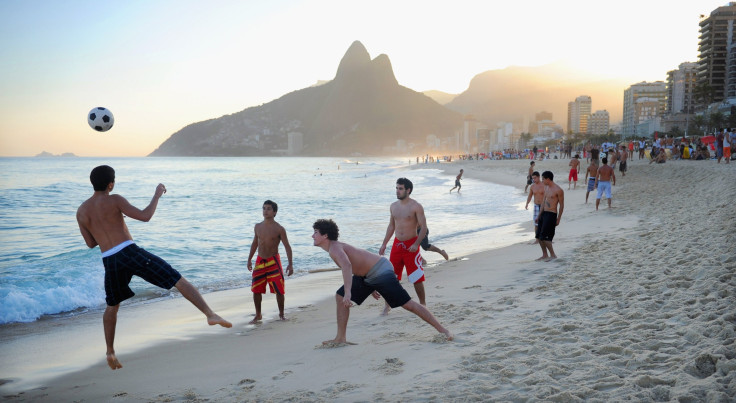 Brazil's shocking 7-1 World Cup semifinal defeat at the hands of Germany on Tuesday could so sour the country's mood that it may weaken the national economy and cause stocks there to fall.
That's the take veteran Brazil-watcher and head of emerging-market strategy at UBS AG, Geoffrey Dennis, gave to Bloomberg News in an interview late Tuesday.
"It is such a humiliating defeat that you wonder whether it will have a negative impact on Brazilians' psyche," Dennis said. "It's going to confirm to the people that 'Look, our economy is struggling, we cannot get any growth, now we don't even have a decent football team either.'"
Brazil's stock market is closed on Wednesday for a regional holiday, but several companies have depositary receipts that trade on U.S. exchanges.
The loss sparked sporadic incidents of vandalism in São Paulo, Brazil's largest city and the site of the World Cup tournament, as well as other parts of the country. And, with presidential elections coming Oct. 3, the Brazilian team's on-field performance doesn't bode well for President Dilma Rousseff, who has been a frequent target of protesters since Brazil announced its plans to host -- and spend billions on -- the World Cup.
Some acts of aggression were more symbolic. After their team's loss, disgruntled fans burned a Brazilian flag in São Paulo's Vila Madalena neighborhood, according to a photo released by Veja magazine. The area is normally visited by celebrating revelers, and the mood remains upbeat even among rival fans. Last night, military police decided to break up the crowds early because of fights that broke out between Argentine and Brazilian fans, according to Folha, a local newspaper.
Tony Volpon, the head of Americas research at Nomura Holdings Inc. in New York, told Bloomberg the loss "is nothing short of a national humiliation. For a country that defines so much of its national character around its footballing prowess, losing at home cannot but have major repercussions beyond the acts of violence seen after the defeat."
After Brazil's debacle, the protests against the Rousseff administration might well resume. If the protests are renewed, it would be a blow for Rousseff, whose approval rating fell to 48 percent in April from 55 percent in February, according to a poll cited by the Economist.
Brazil's market has recently risen 19 percent from a low on March 14 amid speculation a new administration would take over and help jumpstart the economy, according to Bloomberg. Since Rousseff took office in 2011, the nation's economic growth has cooled to 2 percent, which is the weakest since 1992, while inflation has risen to 6.5 percent annually amid economic stimulus.
But there could be an upside, however cynical, to the national team's disgrace. Bloomberg's report said that should Brazilians' mood sour to the point they decide to oust Rousseff from office, that could spark a rally in its stock market.
"This is going to be catastrophic for the national mood," Alberto Bernal, the head of research at Bulltick Capital Markets, told Bloomberg. "If the market sees the potential that Dilma will not be re-elected, then it will rally in a big way."
© Copyright IBTimes 2023. All rights reserved.
FOLLOW MORE IBT NEWS ON THE BELOW CHANNELS