BRICS 2012: Nations Sign Pacts To Promote Trade In Local Currency, Refuse To Follow US Sanctions On Iran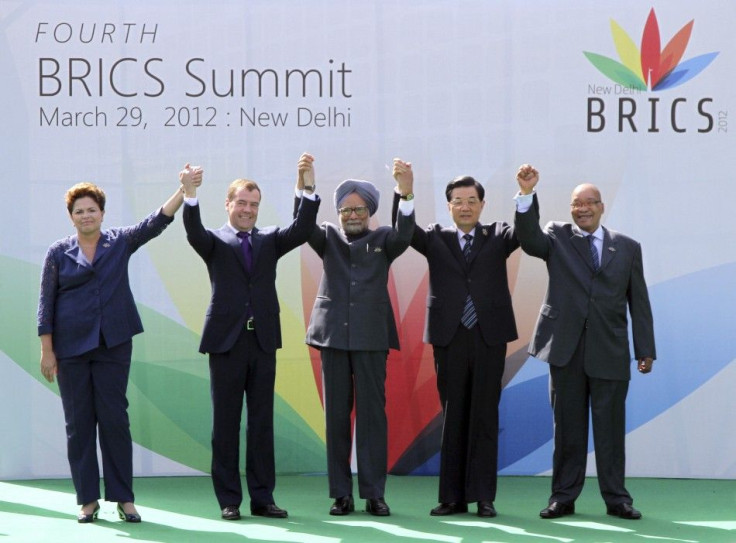 The BRICS nations signed two agreements aimed at promoting trade in local currencies on Thursday.
The two agreements, of which one will provide line of credit to the business community, while the other will examine the possibility of setting up a development bank, were signed by officials of the five member countries Brazil, Russia, India, China and South Africa, Reuters reported.
The agreements signed today by development banks of BRICS countries will boost trade by offering credit in our local currency, Prime Minister Manmohan Singh said in a media statement after the meeting, PTI report said.
The move is seen as an effort by the five emerging economies to shield themselves from the eurozone crisis and to strengthen the local currencies against the dollar. By offering credit in local currencies, the BRICS nations plan to reduce the dependency on fully convertible currencies, aiding in reducing conversion overheads.
These intra-BRICS initiatives are aimed at boosting trade between member countries and the proposed BRICS development bank would help member countries pool their resources effectively for infrastructure development, a PTI report said.
Iran Sanctions
BRICS countries on Wednesday refused to impose trade sanctions on Iran over its nuclear program. Defying the US stand on the issue, member countries made it clear that they were against imposing trade restrictions on Iran as none of them had violated any UN resolution.
We respect the UN resolution and none of our countries (BRICS) are violating it by continuing trade with Iran. The UN resolution does not stop us from trading with Iran. For us, Iran is one of the important sources of energy for us, said commerce minister Anand Sharma, according to a DNA report.
Chen Deming, the Chinese trade minister also said that BRICS nations were not obliged to levy sanctions against Iran as they did not have to follow the US domestic law.
US had imposed sanctions on Iran last December following a standoff regarding Iran's nuclear program.
© Copyright IBTimes 2022. All rights reserved.
FOLLOW MORE IBT NEWS ON THE BELOW CHANNELS