British Airstrikes Against ISIS: Hundreds In London Demand End To UK Bombing In Syria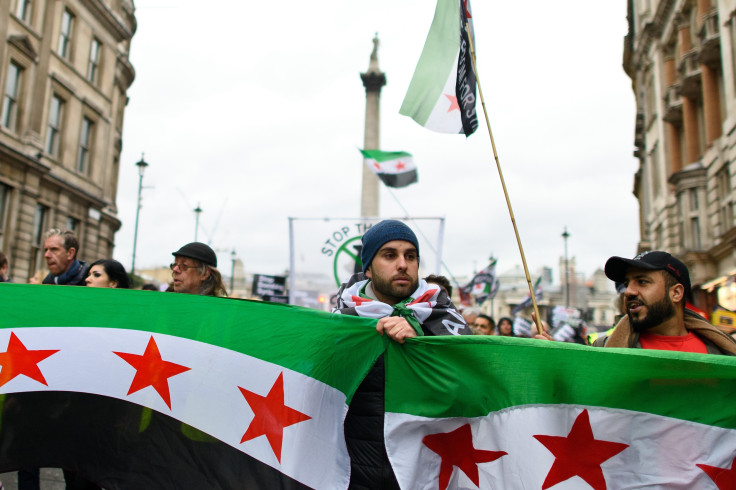 Hundreds of protesters took to the streets of Central London Saturday to decry Britain's decision to launch an airstrike campaign against the Islamic State group in Syria. The controversial motion passed this month as British leaders agreed to join the U.S.-led coalition amid security concerns posed by the terrorist organization, aka ISIS.
Ursala Khan, a 22-year-old from Birmingham, told the Associated Press she joined in the protest because she was concerned about the toll airstrikes would take on civilians. "There is always going to be collateral damage; people will always be killed," she said.
The demonstrators marched from the BBC Broadcasting House to Prime Minister David Cameron's Downing Street office. Cameron has said the airstrikes were necessary to strengthen British security by weakening ISIS, following a series of attacks carried out overseas by the group in France, Lebanon and Egypt.
The vote was contentious; Opposition Labour Party leader Jeremy Corbyn came out harshly opposed to the measure and accused Cameron of rushing into a war. Saturday's Stop the War Coalition protesters took particular aim at the 66 Labour members of Parliament who supported the airstrikes.
One speaker, who identified himself as Tony, said Cameron's decision was "insane" and "evil." Helen Pattinson, 24, questioned the source of funding for the airstrike campaign, the Belfast Telegraph reported.
"How come they can find money to drop bombs on other countries to create refugees ... but they can't find money for health, for education and for young people to have a decent future?" she said.
The U.S.-led airstrike campaign was launched last year amid international concern over the spread of ISIS and egregious human rights violations. The coalition has hit some 3,000 ISIS positions, and thousands of ISIS fighters have reportedly been killed. ISIS came to power during the Syrian civil war, which began more than four years ago, and has claimed the lives of some 250,000 people.
© Copyright IBTimes 2023. All rights reserved.