British Police Union Calls For Officers To Be Armed With Tasers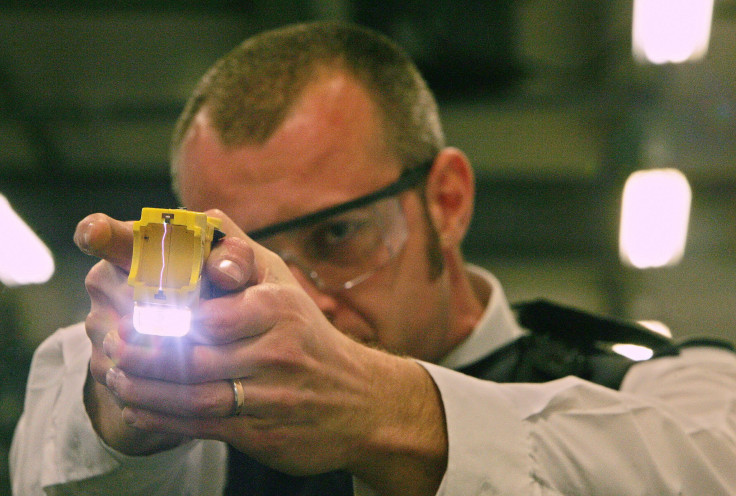 All British police officers should be armed with tasers to help them fight off potential attacks by terrorists, said the head of the Police Federation, the union which represents the country's front-line police officers.
Steve White, chairman of the Federation said that terror attacks could now be committed against officers at any time in the U.K., and officers should be able to carry the weapons in order to defend themselves.
White said: "The terrorist ideal to get attention no longer relies on an attack being in a place of note. It could be in Cheam High Street, in any town, in any part of the UK.
"We know there are more dangerous people out there, preparing to attack police officers and we need to be able to respond to that threat."
British police officers do not carry firearms as standard. Instead, specialist teams of officers equipped with firearms are deployed as needed, and armed police patrol security hotspots like airports.
Next month, the members of the union will vote on whether all officers should be able to receive training in the use of the weapons.
The call comes after the murder of Fusilier Lee Rigby in 2013 by two Islamic extremists on the streets of Woolwich, south London.
Intercepted communications between Islamist radicals in the U.K. and Syrian militants fighting for Islamic State indicated plans to kidnap and murder police and members of the country's armed forces.
"It's a valid fear, probably the number one fear," an intelligence source told The Times. "Our gun laws make it very hard for them to carry out the sort of attacks that happened in Paris. But we know from Woolwich that the stabbing or beheading attack is easy to do and hard to stop."
White said the Woolwich attack showed "you don't need to have a gun to create terrorism". He rejected claims that it would overturn the U.K.'s long tradition of "consensus policing", in which the majority of officers were unarmed.
"It is a defensive tool and a tactical option, " he said. "We have a largely unarmed service and the service wants that to remain. The alternative is to have officers out there without anything at all. We have to do something."
There have been 10 reported deaths linked to the use of tasers by police officers in the U.K. during the last decade.
Amnesty International questioned the efficacy of arming police with tasers, and said it could increase the likelihood of them being used "inappropriately".
"Who on earth thinks that if there's a real instance of terrorist activity that tasers would ever actually be sufficient for our law-enforcement officers?" said spokesman Oliver Sprague.
Tasers deliver a 50,000 volt shock through two electrodes, sufficient to temporarily paralyze a person. Their manufacturer warns that the weapon can cause breathing difficulties and cardiac problems, including heart attacks.
However, studies by the U.S. Justice Department and the Wake Forest Baptist Medical Center, covering stated that tasers did not cause any deaths in the US during 2001-2007.
This article is copyrighted by IBTimes.co.uk, the
business news
leader