Brock Lesnar UFC Return Shut Down By Former Heavyweight Contender
KEY POINTS
WWE superstar Brock Lesnar has been linked to a UFC return following a failed contract renewal with WWE
Former UFC light heavyweight champ Jon Jones taunted Lesnar, saying he would beat him
Former UFC heavyweight Josh Barnett shut down rumors of Lesnar's UFC return
Former UFC heavyweight Josh "The Warmaster" Barnett has weighed in on talks of Brock Lesnar possibly returning to the UFC, revealing that he thinks the WWE superstar is not interested in stepping into the cage once more.
News broke Monday, Aug. 31, that Lesnar has now cut his ties with WWE. After failing to agree on terms for a contract extension with the company, Lesnar officially became a free agent, fueling rumors of a UFC comeback, ESPN reported.
However, not everyone is optimistic about Lesnar's MMA return, including Barnett, who recently took to Twitter on to share his thoughts about the WWE superstar's situation.
According to the former UFC heavyweight contender and Pride legend, Lesnar has no intention of coming back to UFC and is just using his free agency for "leverage" in negotiations for another WWE deal.
"Brock Lesnar is not going back to the UFC or to any fight organizations. He's going to re-sign with the WWE and use free agency for leverage in negotiations. He doesn't want to fight anymore," Barnett tweeted Tuesday, Sept. 1.
The 42-year-old Bellator fighter also took a dig at those speculating on Lesnar making a UFC comeback, adding, "Stop getting all worked up as if something different is gonna happen."
Barnett is a seasoned veteran in the sport. He has defeated an array of notable fighters in both Pride and UFC. However, he and Lesnar never faced each other inside the cage.
His statement comes after former UFC light heavyweight Jon "Bones" Jones suggested an MMA return for Lesnar when he tweeted that he would beat him should the opportunity arise.
"Brock I'll beatcho a-- too," Jones tweeted.
Jones' taunting message for Lesnar immediately generated buzz about a UFC comeback for both fighters, with UFC president Dana White "seriously interested" in making the fight happen.
Lesnar has not competed in the UFC since 2016. His last fight with the promotion was against Mark Hunt at UFC 200 where he won. But it was later overturned and declared "no contest."
However, a UFC return has always been linked to Lesnar's name. In fact, in August last year, WWE legend Kurt Angle revealed to ESPN that Lesnar once told him the one fight he always wanted was against Jones.
"I know he said that he's retired. The one fight he wants, and I don't know if it's ever going to happen, but he wants to go up against Jon Jones," Angle said.
Meanwhile, Lesnar's last WWE match was at WrestleMania 36 where he lost the WWE title to Drew McIntyre.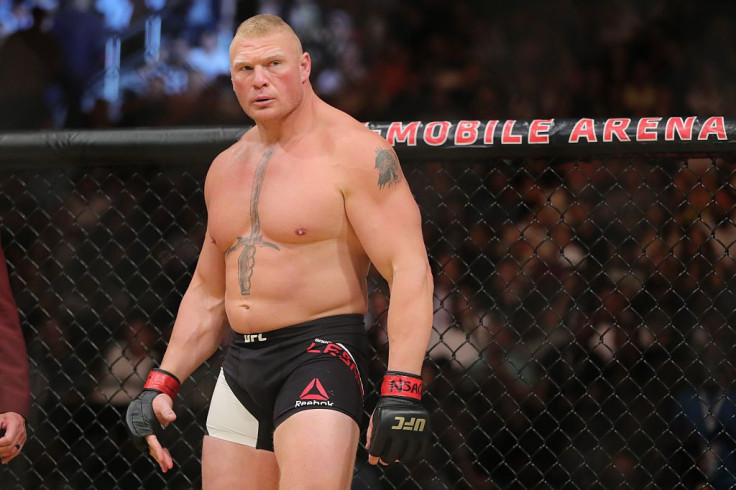 © Copyright IBTimes 2023. All rights reserved.