Brodziak clinches shootout win for rampaging Wild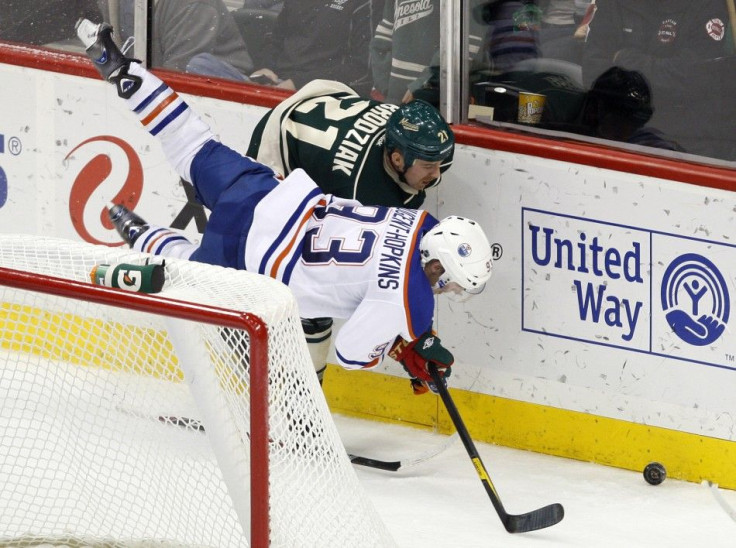 Kyle Brodziak finally broke the deadlock with the game-clinching goal in a six-round shootout as the Minnesota Wild outlasted the Edmonton Oilers in a 3-2 thriller on Wednesday.
Both teams netted three goals apiece through five rounds of the shootout and after Edmonton's Ryan Smyth failed to score on his attempt, Brodziak buried the winner to extend the Wild's lead at the top of the Northwest Division.
We have a bunch of fighters, first-year Wild coach Mike Yeo told reporters. We kept fighting and finding a way... we were clawing our way into that game.
With their second straight win, Minnesota (15-7-3) now has a four-point edge over Vancouver, with Edmonton (12-10-3) trailing the leaders by six after their third consecutive loss.
During regulation play, the Wild also had to fight back from a 2-0 deficit after falling behind to Ryan Nugent-Hopkins and Jordan Eberle goals for the Oilers.
Devin Setoguchi put Minnesota on the scoreboard at 11:31 in the second period and Brodziak netted the equalizer about three minutes later before the two goaltenders held the game scoreless for the next 30 minutes.
Niklas Backstrom finished with 28 saves, including two stops in the shootout, to lead Minnesota, while counterpart Nikolai Khabibulin had 27 saves in the loss.
Edmonton had beaten the Wild 5-2 last Friday but Minnesota gained revenge in the fourth meeting between these teams already this season. The Wild have won three of those encounters.
Mikko Koivu tallied his team-leading 16th assist of the season on Minnesota's first goal and also converted a shootout shot to keep the team's momentum moving forward.
It feels good to be part of a winning team, Koivu said. We have to enjoy the win, but at the same time we have to recognize that it's early in the season.
© Copyright Thomson Reuters 2023. All rights reserved.