Brooklyn Police Shooting: NYPD Officers Unite Against De Blasio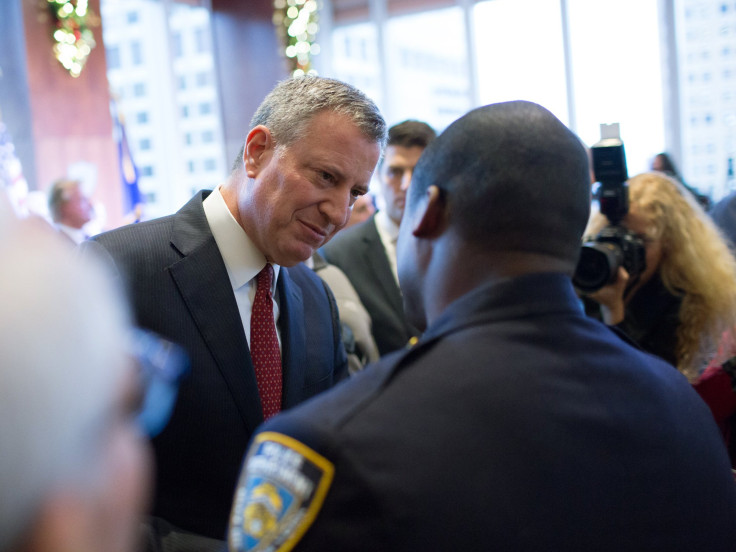 The killing of two police officers in Brooklyn Saturday exacerbated already high tensions between the New York Police Department and the office of New York City Mayor Bill de Blasio, with many officers viewing the incident as a byproduct of the mayor's recent criticisms of police brutality. The sense the liberal de Blasio has abandoned the force in favor of anti-police rhetoric has inspired outrage within the NYPD, with a feeling of solidarity permeating the rank-and-file, many of whom are now uniting against the mayor, including officers of minority backgrounds.
Police officers have come together as a result of the killings regardless of their backgrounds, Officer Sameer Umrao said. "We all feel the same," he said as he patrolled a stretch of Fifth Avenue just south of St. Patrick's Cathedral, where de Blasio mourned the slain officers Sunday. "And there's a broad line between the police department and the mayor's office now."
De Blasio Monday called on New Yorkers to set aside debates and focus on the families of officers Rafael Ramos and Wenjian Liu, who were shot point-blank as they sat in their patrol car in the Bedford-Stuyvesant area of Brooklyn Saturday. In the immediate aftermath of their assassination-style killings, various law enforcement officials began pointing fingers at de Blasio and other progressive leaders, claiming they have vilified the NYPD after a series of high-profile incidents of police violence against unarmed black men around the country.
"There's blood on many hands tonight," said Patrick Lynch, president of the largest police union, according to the Washington Post. "Those that incited violence on the street in the guise of protest, that tried to tear down what New York City police officers did every day. We tried to warn it must not go on. It shouldn't be tolerated. That blood on the hands starts at the steps of City Hall, in the office of the mayor."
While de Blasio has urged a pause in protests against police, the sense that he has turned his back on the NYPD is a pervasive one and crosses racial lines on the force, said Ron Hosko, president of the Law Enforcement Legal Defense Fund and a former assistant director for the FBI. "Police of all backgrounds, black, Hispanic, women, all of them feel like they are under attack by certain executives in our government, including the mayor," he said. "They are painting all of the hundreds of thousands of police officers with a broad brush, which is a great disservice to police."
The killings of Michael Brown and Eric Garner, two unarmed black men, at the hands of white police officers put a strain on the already tense relationship de Blasio had with the NYPD, which had taken issue with the mayor's promise of reforming aggressive police tactics, including New York's controversial stop-and-frisk policy, a policing tactic shown to disproportionately affect communities of color. De Blasio's comments following a grand jury's decision not to indict the police officer who had placed Garner in a choke hold in Staten Island, including his fear his half-African-American son Dante could also be targeted by officers, angered police unions, who said that the mayor was throwing officers under a bus, CBS reported.
The racialized narrative around these killings is part of the problem, Hosko said. "This idea of white cop killing black teen repeated over and over again -- the effect of that is that police feel distrusted and disliked," he said. "I think white officers, black officers, all see that through a similar lens."
"We don't get along with the mayor. He put all of us in one group and called us racist," said Umrao. This, he said, was why most officers of minority backgrounds did not feel any sympathy toward the mayor's efforts to change the relationship between police and communities of color, especially following the killings Saturday.
"There's a lot of animosity now," added Umrao's patrol partner, Officer Jason Milatz, who paused to receive condolences for the killings from a passer-by. Milatz said the emphasis for many police officers now was not about racial politics but watching each other's backs. "It's all about cop safety now," he said.
© Copyright IBTimes 2023. All rights reserved.