Brooklyn Police Shooting: Officers Who Turned Backs On Bill De Blasio Were Inappropriate, NYPD Commissioner Says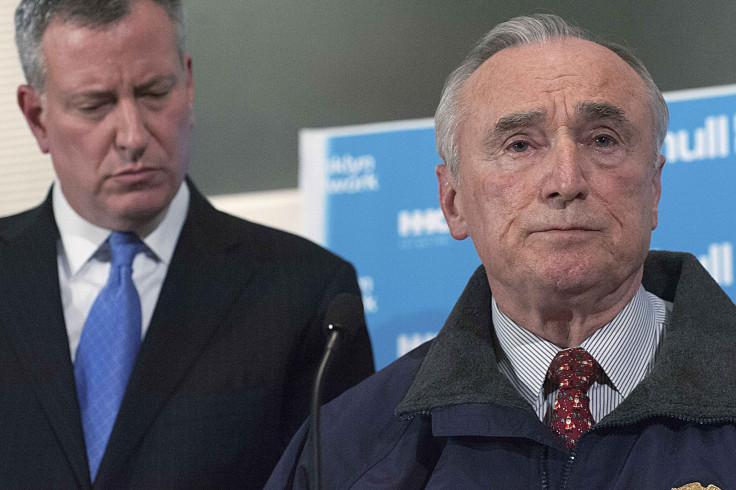 The New York Police Department's boss criticized Monday his officers who turned their backs on Mayor Bill de Blasio when he appeared at a Brooklyn hospital Saturday to speak about the murders of two officers by a black man who claimed the fatal shootings were in response to the deaths of Eric Garner and Mike Brown. De Blasio has been seen as unfriendly to police in part because of his coziness to the Rev. Al Sharpton, who has led protests in support of Brown and Garner, and the mayor's public statements about the circumstances of Garner's death.
While Police Commissioner Bill Bratton said de Blasio has lost the trust of some officers, he said cops turning their backs on the mayor was the wrong response. "I don't support that particular activity. I don't think it was appropriate, particularly in that setting, but it's reflective of the anger of some" of the officers, Bratton told NBC's "Today" show Monday morning. "There's a lot going on at the NYPD at the moment."
Bratton said he hasn't seen tension between the police and the city reach such heights since 1970, when he became a police officer. "My first 10 years were around this tension. Who would've ever thought, déjà vu all over again, that we would be back where we were 40-some-odd years ago? I think this one is a little different, though, in the sense that social media capabilities to spread the word constantly."
New York City Police Officers Wenjian Lui and Rafael Ramos were killed without warning in an ambush attack in Brooklyn on Saturday. They were in their patrol car when they were shot and killed at close range by 28-year-old Ismaaiyl Brinsley, who later committed suicide, according to the New York Times. Brinsley previously said on social media that he would kill cops in retaliation for the deaths of Brown and Garner, who were both black, unarmed and killed by white police. Brown's death in Ferguson, Missouri, and Garner's in Staten Island, New York, this past summer touched off angry protests that intensified when grand juries in both cases chose not to indict the officers.
Garner was killed after New York City Police Officer Daniel Pantaleo put him in a chokehold on a Staten Island street in July. The 43-year-old repeatedly said, "I can't breathe," a message adopted by protesters, who display the phrase on T-shirts.
"I'm Putting Wings On Pigs Today. They Take 1 Of Ours......Let's Take 2 of Theirs #ShootThePolice #RIPErivGardner #RIPMikeBrown," Brinsley wrote on his Instagram account.
Some officers believe de Blasio doesn't support them because he's told his son, Dante, who is half-black, to take special precautions when interacting with police. He also described police officers who were attacked by protesters on the Brooklyn Bridge earlier this month as being "allegedly assaulted."
Officers turned their backs on de Blasio as he made his way through Woodhull Hospital in Brooklyn on Saturday to pay respects to the fallen officers. Two police unions blamed protesters and de Blasio for the cops' death, saying the mayor has blood on his hands, the New York Daily News reported.
"Mayor de Blasio, the blood of these two officers is clearly on your hands," said Ed Mullins, president of the Sergeants Benevolent Association. "It is your failed policies and actions that enabled this tragedy to occur. I only hope and pray that more of these ambushes and executions do not happen again."
Patrolmen's Benevolent Association President Patrick Lynch used similar language. "That blood on the hands starts on the steps of City Hall in the office of the mayor," he said. "When these funerals are over, those responsible will be called on the carpet and held accountable."
© Copyright IBTimes 2023. All rights reserved.