Browns QB News: Could Cleveland Be Without Deshaun Watson And Baker Mayfield In 2022?
Both Deshaun Watson and Baker Mayfield are on the Cleveland Browns roster ahead of mandatory minicamp. However, as the NFL season gets closer, it seems possible that neither quarterback will take a snap for the team in 2022.
Watson faces an impending suspension from the NFL because of allegations of sexual harassment and assault by two dozen women. Mayfield's relationship with the Browns was seemingly damaged beyond repair when the team traded for Watson and gave him a historic five-year contract worth $230 million guaranteed.
In March, the Houston Texans traded Watson to the Browns -- one week after he was cleared of criminal charges. Mayfield had requested a trade as Cleveland was pursuing Watson.
Just a few days after the NFL concluded its investigation into the allegations against Watson, a 24th lawsuit was filed against the Browns quarterback. On Tuesday, the New York Times published a lengthy report featuring accounts from Watson's accusers, including some who hadn't previously spoken publicly.
When Cleveland acquired Watson, it was he might be suspended for somewhere between four and eight games in the 2022 season. It's unclear how the Browns of the NFL will respond to the allegations, leaving Watson's future in doubt.
Mayfield still has one year left on his contract. The Browns could theoretically turn to their former No. 1 draft pick if Watson is unavailable. But the idea of Mayfield ever suiting up for Cleveland again doesn't seem likely.
The Browns have excused Mayfield from mandatory minicamp next week, calling it a "mutual decision and best for both parties." Shortly after the Watson trade, Mayfield said he felt disrespected by the Browns and was ready for the next chapter in his career.
Mayfield has been in trade rumors for much of the offseason, though Cleveland has yet to pull the trigger on a deal. The Cleveland Browns and Seattle Seahawks have been viewed as his most likely landing spots.
Jacob Brissett might have the best chance to be under center for the Browns in Week 1. The veteran signed a one-year deal with Cleveland in March.
Mayfield has made 59 starts for the Browns since 2018. Watson did not play in 2021.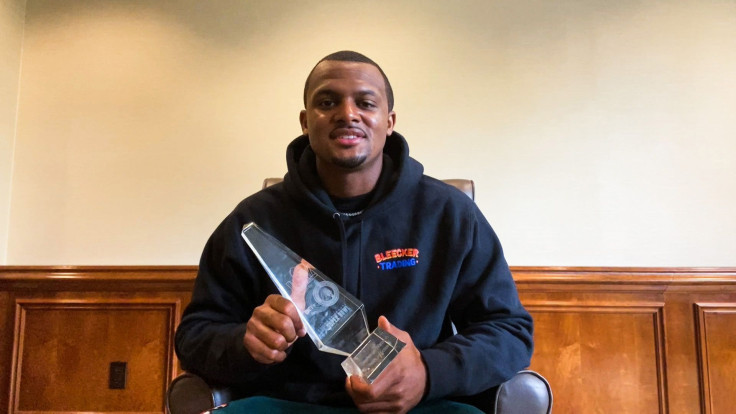 © Copyright IBTimes 2023. All rights reserved.