Brunei's Stoning Laws Targeting LGBT Community Condemned By State Department, Rights' Organizations
Starting Wednesday, Brunei will implement a stricter form of the Sharia penal code, which includes punishments like death by stoning for anyone engaging in gay sex and adultery.
Brunei's attorney general's office announced Dec. 29 that the nation would implement the second and third phases of the Sharia law from April 3. The first phase of the law – formally published by Sultan Hassanal Bolkiah in Oct. 2013 – included the imposition of fines or prison sentences on certain offenses and it was enacted in 2014. While the government's plan was to start enforcing the next two phases within the next few years, it deliberately postponed it following an international outcry over the severity of the punishments.
Apart from cracking down on male homosexual relations and extramarital sex, under its new law, citizens would also be stoned to death for abortion, sodomy, rape, robbery and insulting the Prophet Muhammad, and face amputation of limbs for stealing and 100 lashes with a whip for lesbian sex. To contain the global outrage against the new law, Brunei's Prime Minister's Office issued the following statement on March 30 in an attempt to justify the enactment of Sharia.
"In fully implementing the Syariah Penal Code Order (SPCO) 2013 from 3rd April 2019, both systems will continue to run in parallel to maintain peace and order and preserve religion, life, family and individuals regardless of gender, nationality, race and faith. The Syariah Law, apart from criminalizing and deterring acts that are against the teachings of Islam, it also aims to educate, respect and protect the legitimate rights of all individuals, society or nationality of any faiths and race," the statement said.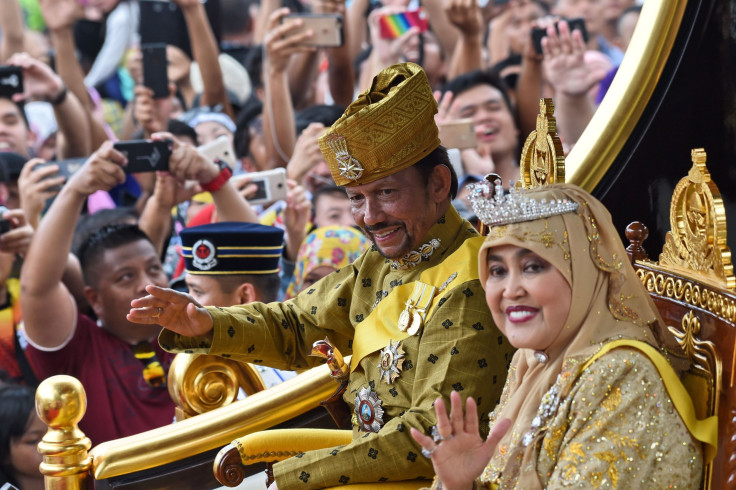 Regardless, the implementation of the harsh laws was heavily criticized by the U.S. government and human rights groups.
On Tuesday, the State Department issued the following statement: "Brunei's decision to implement Phases Two and Three of the Sharia Penal Code and associated penalties runs counter to its international human rights obligations, including with respect to torture or other cruel, inhuman or degrading treatment or punishment. All governments have an obligation to ensure that all people can freely enjoy the universal human rights and fundamental freedoms to which they are entitled. The United States strongly opposes violence, criminalization and discrimination targeting vulnerable groups, including women at risk of violence, religious and ethnic minorities, and lesbian, gay, bisexual, transgender and intersex [LGBTI] persons."
Phil Robertson, deputy director of Human Rights Watch 's Asia division, called the new code "barbaric to the core, imposing archaic punishments for acts that shouldn't even be crimes," and urged Brunei to "suspend amputations, stoning, and all other rights-abusing provisions and punishments."
"Every day that Brunei's penal code is in force is a multifaceted assault on human dignity," Robertson said. "Governments around the world should make clear to Brunei's sultan that there can be no business as usual so long as the threat of whipping, stoning or amputation remains on the books."
In recent times, actor George Clooney and singer Elton John called for the boycott of Brunei-owned hotels in Los Angeles.
"They're nice hotels," Clooney wrote in a column for Deadline, on March 28. "The people who work there are kind and helpful and have no part in the ownership of these properties. But let's be clear, every single time we stay at or take meetings at or dine at any of these nine hotels we are putting money directly into the pockets of men who choose to stone and whip to death their own citizens for being gay or accused of adultery."
John joined in, lauding Clooney on Twitter Saturday, for his call to boycott the hotels.
While all of the laws apply to Muslims in the southeast Asian nation, some aspects of the penal code will also apply to non-Muslims and foreigners. As a result, the Australian Department of Foreign Affairs released an updated travel guide for people planning on visiting Brunei. "Exercise normal safety precautions in Brunei" the guide warned, adding that under the new code, offenses can attract physical punishment while others attract executions."
© Copyright IBTimes 2023. All rights reserved.