Buckingham Palace Suicide Attempt? Man Begs Police To Shoot Him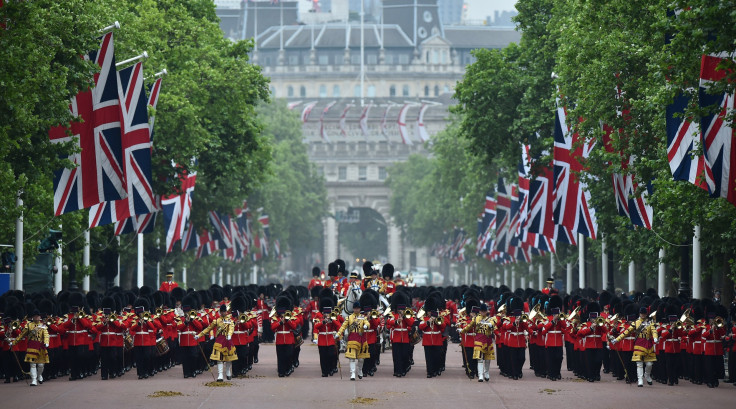 A man outside Buckingham Palace in London asked police to kill him, reports on Twitter said Tuesday. He did not display a weapon, and it was not immediately known if he was armed.
"Man outside Buckingham Palace is asking the police to shoot him. Rather dramatic, causing a crowd to gather" read one tweet posted by Jim Haysom, a bystander to the incident. Haysom continued sending tweets about the event, which occurred around 6 p.m. local time in London, describing the man's appearance and noting the fact that he was carrying a large rucksack.
A video posted by another nearby user showed a black man screaming at the police, shouting incomprehensible things -- possibly about the Islamic State group. "I am the general!" the man said in the video. Daniel Adam Krawczyk, the eyewitness who posted the video to Twitter, said the man kept demanding to see the queen and was shouting at spectators, talking about the blood that had been spilled to obtain the queen's gold. Additional police soon arrived on the scene, according to Krawczyk.
A man named Michael Collins posted to Twitter and Facebook that he had been harassed by the guards at Buckingham Palace and Westminster. Witnesses claimed Collins was the agitated man who was yelling outside of the gates.
"I have only one more day left, and I will leave them worthless gods to their own peril," said Collins in his Facebook post.
Buckingham Palace is one of Queen Elizabeth's favorite homes. The State Rooms at Buckingham Palace are generally open to visitors.
© Copyright IBTimes 2023. All rights reserved.