Building Collapse In Western India's Thane District Leaves At Least 12 Dead, 17 Trapped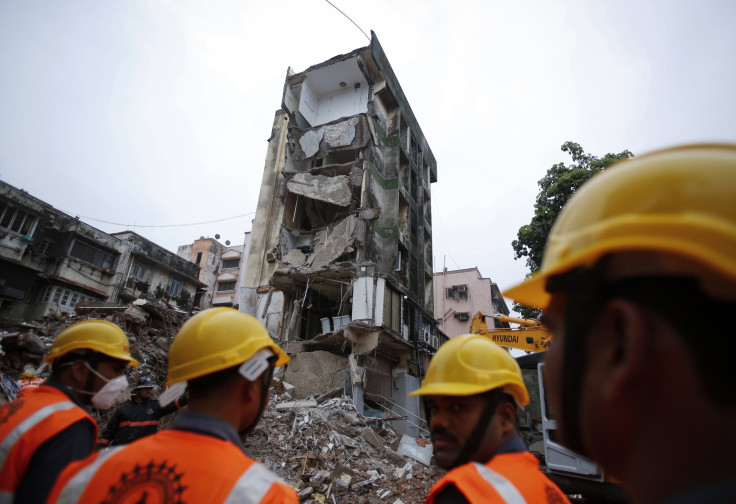 Update as of 3:03 a.m. EDT: The death toll in the collapse of an aging residential building in Thane district in the western Indian state of Maharashtra has increased to 12, the Associated Press reported, citing S.S. Guleria, deputy inspector general of the National Disaster Response Force.
Original story:
At least 11 people have been killed and seven injured after an aging residential building collapsed early Tuesday in Thane district of the western Indian state of Maharashtra. About 17 people are feared trapped under the rubble.
"We received a call around 3 a.m. and reached the spot by 4 a.m. We rescued 4 people who were stuck under the debris," Sachidanand Gavde, deputy commandant at the National Disaster Response Force (NDRF), reportedly said.
Fire brigade and the NDRF rushed to the site to conduct the rescue operation, according to local reports. Those injured were taken to a nearby hospital.
"Around 2 a.m., I heard a loud noise. I saw whole building collapsed in 5 seconds. Fire engines rushed to the spot in next 15 minutes," Rajan Khatri, a security guard in the adjacent building, told Hindustan Times.
Authorities at the local municipal corporation had reportedly issued notices to the residents to evacuate the 50-year-old dilapidated building. Some had vacated the premises while others refused to leave, the officials reportedly said.
This is the second residential structure to collapse in the district in a week. Last Tuesday, at least six people were killed when a building collapsed in Thakurli area of Thane district. The building was soon to be demolished and the residents had been told to vacate it, according to the authorities.
Old, dilapidated and illegal structures in the state's Thane district and the nearby city of Mumbai have been a cause of concern for officials as people continue to live in them despite warnings, as skyrocketing real estate prices push quality homes out of the reach of most people.
In the last two years, over 100 people have died in residential building collapses in Mumbai, BBC reported. Authorities often blame poor construction materials for such accidents.
© Copyright IBTimes 2023. All rights reserved.