Burkina Faso Update: Protester Killed In Clashes Over Military Rule, UN Threatens Sanctions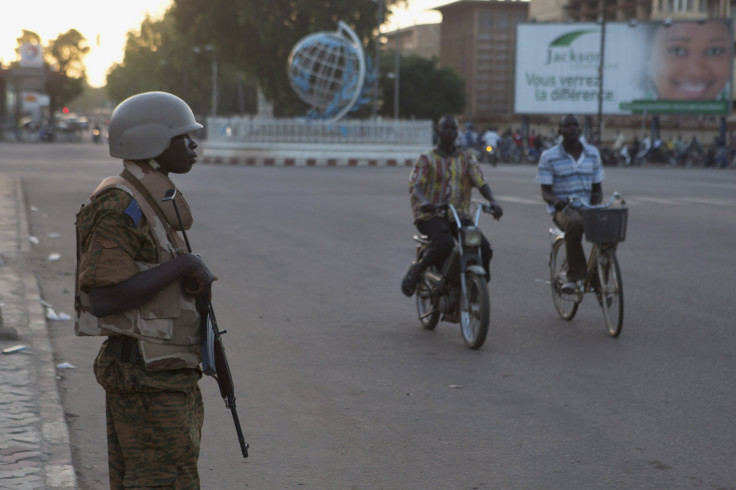 At least one person was killed Sunday when Burkina Faso's army used gunfire to clear protesters from the streets of the nation's capital of Ouagadougou, reports said. The United Nations threatened to impose sanctions if military official Lt. Col. Isaac Zida, who took power after the resignation of longtime President Blaise Compaore last Thursday, does not give up control to civilian rule.
"The army does not want power. But the anarchy needs to stop," a Burkina Faso army spokesman said, according to Reuters. "Any violation will be punished with the utmost energy."
Soldiers used gunfire to clear the area around Burkina Faso's state television station, the BBC reports. Obstacles were erected to stem protests near Ouagadougou's main square. The military's actions were necessary to "restore order" in the area, a statement said. Military officials met with opposition leaders Sunday and confirmed that they would facilitate "a transition body ... with all the components to be adopted by a broad consensus."
Opposition leader Saran Sereme and an army general marched to the square with their supporters to declare their control over the transitional government, witnesses said. Both groups were repelled by the military. Sereme later denied the story and said she was brought to the area by force.
Protesters allege that the military's "transition" rule is actually a coup d'etat. The United Nations' representative in West Africa condemned the military's seizure of power Sunday and warned that sanctions could follow if the army does not allow a return to civilian rule. The Burkina Faso constitution states that the head of parliament should take power in the event of a presidential resignation, with elections held within 90 days. Thus far, the army has ignored that mandate.
"We are hoping for a transition led by civilians in line with the constitution," Mohammed Ibn Chambas said. "[Zida] said he will reflect and try to work with the U.N., African Union and the Economic Community of West African States and to find an acceptable agreement which conforms to the constitution."
Compaore was forced to step down after 27 years of rule last week after his bid to extend his rule beyond constitutional term limits led protesters to storm Burkina Faso's parliament building. Army Gen. Honore Traore named himself the nation's transitional leader, but the military backed Zida's bid.
© Copyright IBTimes 2023. All rights reserved.