Business Delegation Arrives In Beijing As Fresh Protests Begin In Hong Kong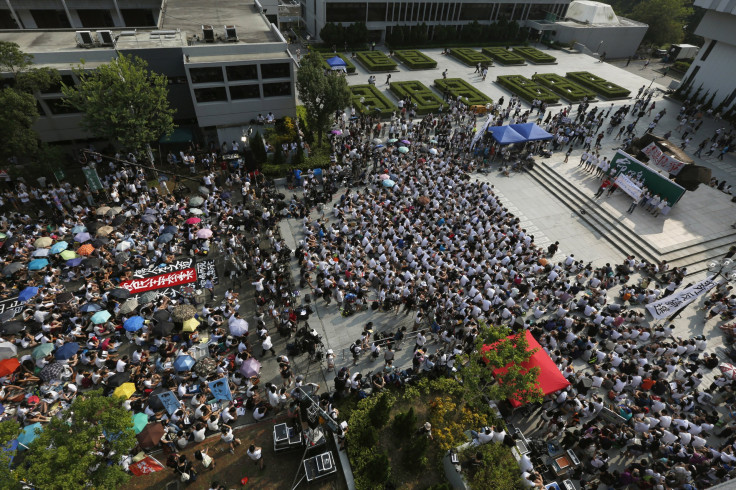 Thousands of students protesting China's decision to restrict electoral reforms in Hong Kong took to the streets on Monday, even as a delegation of Hong Kong's top business leaders arrived in Beijing to meet Chinese President Xi Jinping, according to media reports.
Nearly 13,000 students of the Chinese University of Hong Kong began gathering on its campus Monday afternoon, South China Morning Post, or SCMP, reported. Four hundred of the university's staff, including many teachers, also signed a petition supporting the protest, which is seen as a prelude to the larger Occupy Central movement, set to begin on Oct. 1.
Meanwhile, a delegation of over 60 businessmen, led by former Hong Kong Chief Executive Tung Chee-hwa, and including members of the Chinese People's Political Consultative Conference -- a political advisory body -- arrived in Beijing to discuss the region's political and economic future, The Wall Street Journal reported.
Henry Tang, son of Hong Kong textile magnate Tang Hsiang Chien and a member of the delegation to Beijing, told the Journal that Hong Kong's "political reform" was one of the topics that will be discussed.
"We will convey our thoughts to the central government on achieving universal suffrage. We will do everything in our power to help implement one man one vote. We definitely wish (the political system) to move forward," Tang reportedly said. He, however, added that he supported Beijing's stance on electoral reforms in Hong Kong.
The Chinese government had earlier promised direct elections for the post of Hong Kong's chief executive by 2017. In August, however, it ruled that voters would only have a choice from a list of two or three candidates selected by a nominating committee, angering pro-democracy activists who saw it as an attempt by Beijing to retain control over Hong Kong.
While the Occupy Central movement has found support among many political parties and student groups, many regional business tycoons, fearing that such a protest might cripple their operations in Hong Kong and the mainland, have either remained silent on the issue or have explicitly supported Beijing's policies, the Journal reported.
Willy Lam, an adjunct professor at the Chinese University of Hong Kong told the Journal that the delegation's trip to Beijing might be used by the ruling communist party to "send a message" to business leaders "telling them that if they don't 100 percent support Beijing, and do their part vigorously, their business interests in the mainland and Hong Kong might be affected."
© Copyright IBTimes 2023. All rights reserved.