Business Owners Feel Empowered by AnyTask.com's Talented Online Freelancers
* This is a contributed article and this content does not necessarily represent the views of IBTimes.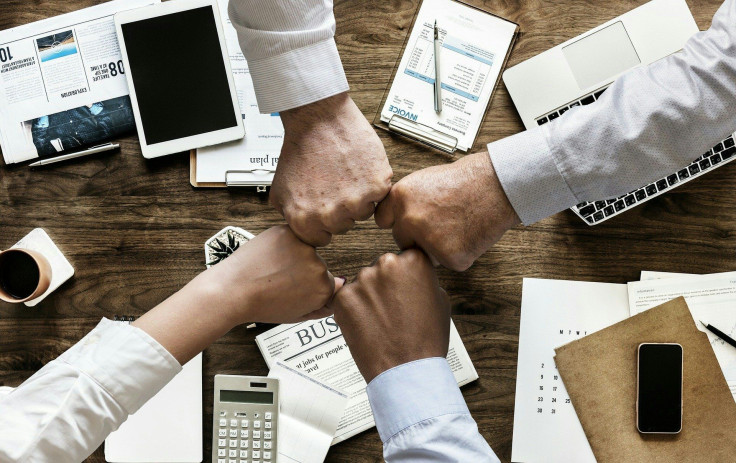 Over 600,000 people have registered on the AnyTask™ Platform, expressing their intention to purchase from tens of thousands of talented online freelancers from around the world. Here are some of the most relevant testimonials from AnyTask.com Buyers convinced that this platform is right for them over similar competing websites.
By now a cliché but worth mentioning, Covid-19 has sped up the global transition to remote work and has significantly increased the number of entrepreneurs, startups, businesses, and companies working with digital freelancers. They are increasingly becoming aware, as well, of the enormous benefits that online freelance platforms provide.
The freelance platform options may be daunting. It's important to highlight the virtues the AnyTask™ Platform has.
It provides Buyers an unrivaled 100% payment protection system and an extremely efficient dispute and support centre. Unlike many other prominent freelance platforms, AnyTask.com enjoys an excellent reputation thanks to the complete Buyer satisfaction guarantee or a refund on your purchase(s).
And if that were not enough, Buyers get the satisfaction to purchase from Sellers on AnyTask.com. The latter get the total amount of the Task they sell because the freelance platform does not charge them any fees or commissions, unlike all other competing websites, some of which charge up to 20% of their sales.
What do AnyTask .com Buyers have to say?
Well, good question. Let's start with an example of an Italian entrepreneur who runs an electrical business that has been in his family for over 27 years.
Luca Bonati is from Parma. He manages Bonati Wiring. And has for several years managed Stockpile Shop TV, an online retailer specialising in fashion.
Luca says that when he discovered AnyTask.com, he decided he'd try online freelancers for the first time. He realized it was so easy and convenient that it was something he wished he would've used a long time ago.
"It was not until AnyTask launched in late 2019 that I decided to use freelancers to help with my businesses," Luca said. "I find it very useful to have a pool of highly skilled digital freelancers who are there to help around the clock."
Luca said he uses freelancers to free up his time for tasks that only he can do and make his work more efficient.
CREATIVE REVIEW: How outsourcing specific tasks can save your agency time and money
"I've found delegating work to freelancers on AnyTask to be very advantageous for business people like myself as I can get experts doing work for which I have no skills. It helps free up my time for what I do best," Luca said. "AnyTask is the only freelance platform I've ever used, and it is the only one I will continue using. I have visited other freelance platforms but have not used them. No need."
Luca says he's purchased about seven or eight tasks from AnyTask. "My freelancers are all graphic designers. I've purchased from Rayani, Tahmida, and Gloryjo. They have all delivered amazing work and are impeccable professionals."
FORBES: AnyTask is about to change all you know about the gig economy
Paul Crowdy is a software engineer from Kent, England , and just like Luca, he had never used freelancers before AnyTask. He's been the director for That Web Co for over ten years. He also runs three websites that he got an AnyTask.com freelancer to design.
"I am very pleased with the work that AnyTask website designer Jvankoppen has delivered to me," said Mr. Crowdy. "This highly skilled freelancer from the Netherlands delivered excellent work on all three occasions. I couldn't recommend him higher."
Paul had Jvankoppen design the Little Chameleons, a website for children's extracurricular educational activities. He also got him to design the Ramblers' website.
Jvankoppen also designed KMF.TWCDEV, an Internet Information Services' website. He purchased some logos from Helion, one of AnyTask's top freelancers.
Luke Ryans is an online retailer and marketer from the UK . He has been using freelance platforms for over two years for tasks that he lacks the skills or the time to do himself. "I've used Fiverr several times a year up until the launch of AnyTask earlier this year," said Luke. "I have now purchased four tasks from AnyTask."
CREATIVE REVIEW: How outsourcing specific tasks can save your agency time and money
Mr. Ryans said he likes AnyTask.com because it's as good as other freelance platforms, but "Tasks are cheaper. Delivery and communications are as good as Fiverr." He also said he plans to continue using AnyTask.com and that he would recommend it to others.
FORBES: AnyTask is about to change all you know about the gig economy
Luke purchased a couple of logo designs from Kupsproductions. Luke also purchased some SEO support from AnyTask freelancer Sprywire.
One day, South African Steel Designer and Computer Networker Meshack Lubane required a logo and a whiteboard animation quickly, so he decided to use AnyTask.com.
"To be honest, I never thought I would use a freelance platform for anything because I had this impression that they are not user-friendly," Meshack said. "But AnyTask has convinced me to the contrary. And they are not only very user friendly, but their freelancers are very talented and deliver high-quality work."
Now, said Mr. Lubane, "I'm convinced how useful freelance websites are and how powerful they can be for people like me who need a project done urgently."
Meshack plans to continue using AnyTask.com freelancers whenever he requires them and has recommended the global platform to friends and family. "AnyTask is user friendly, and I now clearly see the benefits of using freelance platforms, so I will continue using AnyTask," he said.
Mr. Lubane, age 48 and from Ekurhuleni, 36 kilometers east of Johannesburg, says what "I like most about AnyTask is that freelancers are quick to work on your order. I have purchased four tasks so far, and I am delighted with the work delivered to me."
Lubane purchased a book editing task, a whiteboard video ad, and a couple of logo animations for work.
"My experience on AnyTask was great," Meshack added. "I found the freelancers I needed easy because their profiles are good. That makes it easy to choose the right one you need."
Oscar Mads Dørr-Lemming is a young entrepreneur and systems engineering university student from Denmark. He said that in his opinion, "Fiverr started well with excellent prices but now is very expensive, and freelancer.com has a terrible communications system." Hence, he now uses AnyTask.com for all his freelancing needs.
"I've purchased dozens of freelance tasks over the past two years from Fiverr, Freelancer.com, and AnyTask.com," said Oscar. "I've now purchased at least 13 tasks from AnyTask freelancers."
FORBES: AnyTask is about to change all you know about the gig economy
He is a 19-year-old from Aarhus, Denmark. He and his brother Mikkel founded Godeopgaver.dk, a marketplace where students can sell assignments and notes to other students.
AnyTask.com over other leading platforms
"I will never use freelancer.com again because my brother and I lost over six months of our valuable time and $500 on freelancer due to a terrible communications system and a dispute scheme that does not work as it should," said Oscar. "AnyTask is now my preferred freelance platform."
CREATIVE REVIEW: How outsourcing specific tasks can save your agency time and money
"Fiverr was a good idea at first," he added. "Tasks were five dollars. Now, very few tasks are worth that much; Fiverr is now very expensive ."
Oscar said AnyTask.com is an excellent alternative for various reasons, including great talent at low prices.
"I particularly like AnyTask because, as a buyer of tasks, I know that I am not only saving money, but I also have access to great talent from emerging economies ," he said. "I particularly enjoy working with Helion."
CHECK IT OUT: Repeat AnyTask buyers testimonials from professionals worldwide
Mr. Dørr-Lemming said Helion exceeded his expectations by delivering various designs in more formats than he requested. "My brother and I are using the logo he created for us on our website."
"There is great talent in developing countries that if it were not for AnyTask, they would not be able to be freelancers because they do not have a bank account," Oscar highlighted. "AnyTask opens the doors for new talent providing buyers of tasks with a unique pool of new talent."
Oscar said he will continue to use AnyTask.com over Fiverr and Freelancer.com and has recommended the global freelance platform to friends and family. "I believe AnyTask is a game-changer."
David J. Frias, a film producer from Las Vegas , has participated in major Hollywood productions, such as The Amazing Spiderman 2, The Legend, Blue Bloods, The Apprentice, The X Factor. After ten years of using freelance platforms and 200 task purchases, he said that he prefers AnyTask because they have a powerful message for financial inclusion and genuinely care about sellers and buyers.
"The thing that convinces me most about AnyTask is that they genuinely care about sellers and buyers, unlike Fiverr," said Mr. Frias. "They removed fees for buyers for months during the Covid-19 in solidarity with business during these trying times. And they do not charge freelancers any fees or commissions, which I had never seen before on any other freelance platform."
The film producer began using AnyTask.com immediately after its launch in late 2019 and has purchased eight tasks, including logo designs from Helion and even a recipe book from Smithwriter.
FE NEWS: Why should you hire freelancers via online platforms?
"Helion is amazing to work with as he delivers excellent customer service," said David. "I ordered a logo from him, and he provided me with eight different designs to choose from, which I found to be extraordinary. Turkish AnyTask.com freelancer Btangal also caught David's attention.
"He created for me the base for a gaming app very similar to Candy Crush for only $10. That guy is truly amazing because the least something like this costs anywhere else is $200."
Kern Thompson, a marketer, and photographer from Rotterdam, Netherlands , said AnyTaskers exceeded his expectations by providing more deliverables than agreed upon purchase. He recalls coming across something on AnyTask.com that impressed him massively and that he had never before seen on the other leading freelance platform he uses.
"Out of the six different Taskers, or I think, five went that extra mile, and I thought to myself I have to tip them," Kern said. "That's such a wonderful thing. Nobody on UpWork ever did more than I asked. No one, and that's what I love about this platform."
FORBES: AnyTask is about to change all you know about the gig economy
Kern said the AnyTask.com freelancers he worked with are are Qikfingers, JohnKazzy, Ellatyler, Gagbab, Izzyx6, and Logomaster. He did not clarify which of them exceeded his expectations, only that he was happy to work with the six of them. "I really feel their passion, I really see that dedication, and that is wonderful," he said.
He explained that he asked for market research on ebook sales. The freelancer he purchased from delivered an Excel sheet with all the statistics he required. And he also got "an extra document with more information, which the freelancer kindly explained to me," he said.
SUNDAY TIMES: AnyTask, the launchpad for digital freelancers
Mr. Thompson also said AnyTask.com is very useful because online freelancers help him with tasks he has no skills or time to do himself. Freelancers free up his time to focus on what is more important to him, he added.
Mr. Thompson suggested that freelancers are a fantastic resource for small businesses, independent contractors, entrepreneurs, and anybody who requires specific talent from people with particular skills and expertise.
Chris Truman, age 37, is a Business Analyst based in Christchurch, New Zealand. He works within a project team on digital projects, such as website or software upgrades, migrations, and improvements.
"I'm a business analyst during the week working within project teams on digital projects such as website or software upgrades, migrations, and improvements. That's where the money is for me," he said.
But when it comes to his real passion, Mr. Truman says: "I write music as a side hustle and hobby in my spare time. I need AnyTask .com services such as graphic design and video design for artwork and content for releases. I need to organize more of this, actually, so thanks for the reminder!"
FE NEWS: Why should you hire freelancers via online platforms?
However, he reiterated that "selfishly, the cost is a big factor for me. Graphic designers here in New Zealand, for example, seek at least NZD 100 (some $66) an hour."
SUNDAY TIMES: AnyTask, the launchpad for digital freelancers
He says the hourly asking price is fair for New Zealand, "but when we're talking about my budget being a small-time artist – it's small, so, therefore, I use AnyTask."
Chris seeks the help of online freelancers several times a year. Over the past seven years, he has purchased well over 60 tasks from freelancers on Fiverr and now from AnyTask.com.
He began using AnyTask.com over a year ago, he recalls. And when asked how he would compare AnyTask.com to other leading platforms, he responded: "AnyTask seems more personable than the other website I used. It's easier to use."
Chris made it his go-to website for freelancers. He has purchased about ten graphic and video design tasks so far.
FORBES: AnyTask is about to change all you know about the gig economy
When asked if he plans to continue using the UK-based freelance platform, he said: "For sure. As a buyer, I was happy with the products and orders I received."
When asked if he's used freelance platforms other than AnyTask.com and how he would compare them to the AnyTask™ Platform, he responded: "It is more personable than the other website (Upwork) I used. It's easier to use."
Brandon de Jesus, a successful realtor from Naples, Florida in the United States , says he uses freelance platforms some ten times a year for projects he needs that require digital skills he does not have.
FE NEWS: Why should you hire freelancers via online platforms?
"The key to my success has been my reputation for honesty and my ability to provide the highest level of client care," he states on his website. The Floridan realtor strongly believes in using cutting-edge technology and social media to achieve his goals as a property salesperson, which he began over 19 years ago.
He's been outsourcing to online, digital freelancers since 2017. "I have purchased about 25 tasks from Upwork and AnyTask.com, he said. "They're a great way to have projects I need doing quickly."
Brandon had an AnyTask™ Platform freelancer create this image for his LinkedIn page. | Image courtesy of Brandon de Jesus.
Mr. De Jesus says he will continue using AnyTask.com, and when asked if he would recommend it to others, he replied: "Yes, I highly recommend their service."
Brandon hired an AnyTasker to write some property descriptions for his listings. He also "had someone handle a CAD project I was working on," he said. "And one project for fun which translated my daughter's name (Carolina de Jesus) into Chinese characters."
"I plan to continue using AnyTask, and yes, I highly recommend this global freelance platform," Brandon said. "The tasks I've ordered I received a quick response. My experience was great every time."
Successful British songwriter and marketing expert Paul Homewood recently said that he relies significantly on freelancer platforms to focus on what he does best as a small business owner.
"I have purchased over 40 freelance tasks on AnyTask," he said. "I have to say I was stunned to see the amazing talent on that platform… honestly, I was not expecting to be."
After six years and hundreds of jobs outsourced to freelancers on Fiverr, Upwork, 99Designs, and PeoplePerHour, Mr. Homewood has a clear idea of what he needs when seeking online talent.
"I find online outsourcing via freelance platforms to be the most powerful tool for small businesses as well as others that require remote talent to help with specific tasks," he said. "It is a great feeling to know that while you sleep, somebody in a different time zone is working for you."
"I have purchased over 40 freelance tasks on AnyTask," he said. "I have to say I was stunned to see the amazing talent on that platform… honestly, I was not expecting to be."
Why outsource work to talented freelancers on AnyTask
The British marketing guru says he decided to only use AnyTask.com after various tasks completed by AnyTaskers. "The work delivered was brilliant, and I can't conform to less because that is what my clients expect from me as well."
Paul also likes AnyTask.com over the other leading platforms because it "is an opportunity to give people work who wouldn't otherwise have access to the global digital economy because they are unbanked. It is a great opportunity to make a difference in the life of very talented people."
The freelancing couple from Romania
With over a thousand high-quality video editing and production gigs sold in four years to clients worldwide, including Middle East, Asia, and the United States, George and Cinthya Ivan of Ivan Studio have demonstrated why they've been so successful on AnyTask.com.
When you consider the nine years of video editing and producing experience and their passion, it is no surprise that the couple from Romania are among the top talents on the global freelance platform powered by the award-winning crypto startup.
Everybody has different reasons for outsourcing work to digital freelancers using relevant online platforms such as AnyTask.com, Fiverr, Upwork, etc. But they all agree on the benefits, which are costs, expertise, and localized talent.