'Butcher of Bosnia' Mladic Taunts Srebrenica Survivors As War Crimes Trial Begins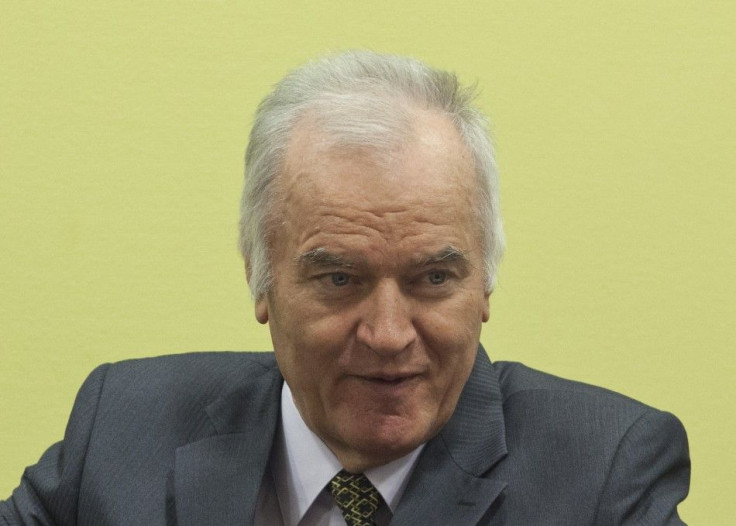 Ratko Mladic, the so-called Butcher of Bosnia, taunted Srebrenica survivors at the start of his trial for genocide on Wednesday.
The former Bosnian Serb general, on trial for the murder of tens of thousands of Muslim men, women and children during the early 1990s Bosnian war, entered a courtroom in The Hague clapping his hands and gave the thumbs-up sign.
After the trial began he also made eye contact with one of the Muslim women present, running his thumb across his neck in a throat- slitting motion.
The gesture led to Dutch judge Alphons Orie calling a brief recess to end inappropriate interactions, Reuters reported.
Mladic is accused of playing a central role in the Balkan conflict, including the massacre of Muslims in Srebrenica in 1995, Europe's single worst atrocity since the Second World War.
His forces reportedly murdered more than 8,000 Muslim men and boys during the week-long massacre, while also forcibly deporting up to 30,000 Bosniak women from the supposed UN safe haven.
Mladic also stands accused of overseeing the 43-month siege of the Bosnian capital Sarajevo, in which more than 10,000 people were killed by snipers, machine guns and heavy artillery.
It is estimated more than 100,000 people died during the 1992-1995 conflict.
The trial is being held before the International Criminal Tribunal for the former Yugoslavia in The Hague. Mladic faces 11 counts of genocide as well as several other crimes against humanity.
After 17 years on the run, Mladic was finally apprehended by Serb forces near Belgrade in May last year.
Opening the trial, prosecutor Dermot Groome said Mladic and other Bosnian Serbs had implemented a plan to exterminate non-Serbs after dividing the country along ethnic lines.
The prosecution will present evidence that will show beyond a reasonable doubt the hand of Mr. Mladic in each of these crimes, he said, according to Reuters.
Mladic has previously dismissed all charges against him as obnoxious and monstrous since he was only defending his country.
In pre-trial hearings Mladic has heckled the court, frequently interrupting the proceedings.
The whole world knows who I am, he told a hearing last year.
I am General Ratko Mladic. I defended my people, my country ... now I am defending myself.
Sky News quoted Belgian chief prosecutor Serge Brammertz as saying: I don't have to tell you how important it is that finally this trial starts 17 years after the first indictment was issued [against Mladic].
The accused has been in the same jail as that of his former political leader Radovan Karadzic, who is also being tried for genocide.
Karadzic, who was captured in 2008, is also half way through his trial.
We would, of course, have preferred having both before the same judges, one being the political architect of the crimes allegedly committed, the other the military leader of this policy.
The president of the tribunal, Judge Theodor Meron, rejected a last-ditch effort by Mladic asking for the Dutch judge, Alphons Orie, to be replaced.
Meron said in a statement: After review of each of Mladic's arguments for Judge Orie's disqualification and Judge Orie's responses thereto, I am not satisfied that Mladic has demonstrated that a reasonable observer, properly informed, would reasonably apprehend bias, and I accordingly find Mladic's request for Judge Orie's disqualification to be unmeritorious.
Parampreet Singh, a senior counsel in the International Justice Programme at Human Rights Watch, said: Victims have waited nearly two decades to see Ratko Mladic in the dock. His trial should lay to rest the notion that those accused of atrocity crimes can run out the clock on justice.
© Copyright IBTimes 2023. All rights reserved.