Cain is Able: Zogby Poll Puts Herman Cain at 45 Percent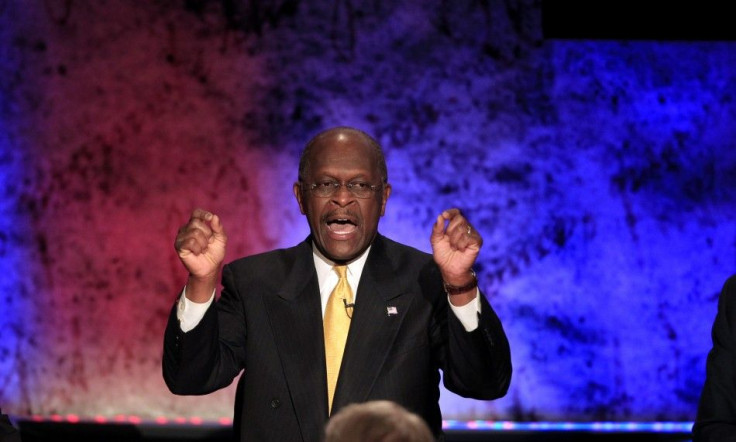 A new Zogby Poll released Oct. 17 puts Herman Cain as the frontrunner with 45 percent of the votes.
It seems as if this Cain is able.
IBOPE Zogby International conducted an online survey of 1,214 likely Republican primary voters. The margin of error is calcuated at +/- 2.9 percentage points.
The results reveal that Cain is strides ahead of former frontrunner Mitt Romney, who came in second place with only 21 percent.
Rick Perry received a measly seven percent compared to his whopping 41 percent lead in August.
Cain appears to have won support of voters who previously supported Perry or Bachmann, writes Zogby. Romney's 21% is the highest we have shown for him in match-ups with the current field of announced candidates.
Herman Cain (@THEHermanCain) tweeted his joy: Team HC --Zogby Poll: Cain increases lead! http://tinyurl.com/3m2rk5x #tcot #Cain2012 #GOP2012
Cain's numbers have been steadily increasing in recent weeks as the candidate gains traction and public approval.
He went on NBC's Meet the Press to defend his 9-9-9 tax plan.
Who will pay more? The people who spend more money on new goods, Cain told NBC as reported by the New York Post. The sales tax only applies to people who buy new goods, not used goods. That's a big difference.
This plan would replace the entire current tax code with a 9-9-9 spread: a flat nine percent income tax, nine percent corporate tax and nine percent national sales tax.
Cain has become quite a social media phenomenon with his Herman Cain Pizza Jams trending on Twitter and a video of him singing an ode to pizza reported by the Daily Beast.
But this candidate certainly is no joke. He is a Republican with a plan.
Why me and not Mitt Romney? Cain said to NBC. He has been more of a Wall Street executive. I have been more of a Main Street executive
Here's what I've learned... and the polls show it: Message is more powerful than money, he continued.
Time is ticking as the Republican primary elections are slated for next month. Former frontrunners are falling to the wayside as Cain begins to stand out as the GOP choice.
In another IBOPE Zogby International online survey of 2,318 voters, respondents were asked about their opinion of President Obama and the current state of the union.
Obama's approval rating among these respondents is 43 percent. Thirty-nine percent believe he deserves re-election.
The poll also revealed that 70 percent feel the nation is headed in the wrong direction and overall approval of Congress is at 15 percent.
The interactive IBOPE Zogby Poll was conducted between Oct. 11 and Oct. 14.
© Copyright IBTimes 2023. All rights reserved.