Cain Blames Perry Campaign for Leaking Harassment Claims; Perry Campaign Blames Romney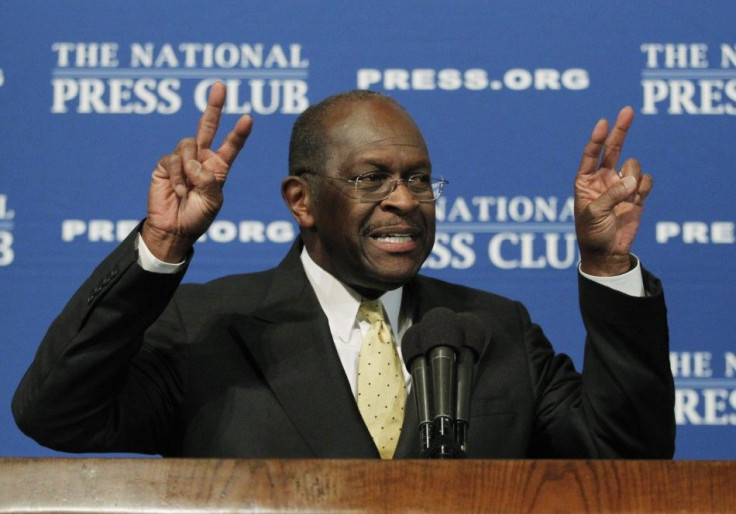 Former CEO Herman Cain is now saying that the campaign of one of his primary opponents, Texas Gov. Rick Perry, is responsible for leaking the old sexual harassment allegations that were the subject of an explosive Politico article on Sunday.
Specifically, Cain implied that Curt Anderson, an adviser to his failed 2004 Senate campaign who is now an adviser to Perry, must have been behind the leak because he was the only person who knew about the allegations.
When I sat down with my general campaign consultant Curt Anderson in a private room in our campaign offices in 2003, we discussed opposition research on me, he told Forbes reporter Richard Miniter on Wednesday. It was a typical campaign conversation. I told him that there was only one case, one set of charges, one woman while I was at the National Restaurant Association. Those charges were baseless, but I thought he needed to know about them. I don't recall anyone else being in the room when I told him.
Cain's campaign also pointed to the timing of Perry hiring Anderson -- about a week before the Politico story came out, officials said -- as suspicious. But Politico had been working on the story for much longer than a week.
Anderson denied Cain's accusation immediately, telling Miniter that he hadn't even heard of the sexual harassment allegations against Cain until he read about them in the Politico report.
I have nothing but good things to say about Herman Cain, he said. I'm not going to bad-mouth Herman Cain to anyone, on or off the record. I think he is a guy of great leadership and integrity.
Perry Campaign Denies Cain Accusation
Ray Sullivan, a spokesman for Perry, also denied the claims, calling them patently untrue.
But, he added, he wouldn't be surprised if Mitt Romney's campaign had leaked the story.
I wouldn't put it past them, Sullivan told CBS News. There are much closer connections between the Restaurant Association, Cain and the Romney camp than there are with us.
Andrea Saul, a spokeswoman for Romney, said simply that Sullivan's insinuations were not true.
Politico, meanwhile, says it doesn't matter who leaked the story, because its reporters vetted and confirmed all of the information they were given.
The Politico investigation found that at least two female employees of the National Restaurant Association had complained of being sexually harassed by Cain when he was CEO of the lobbying group. The employees were given settlements of an undisclosed size to leave their jobs and not talk about the incidents.
At first, Cain denied any knowledge of the incidents; later, he changed course and said that he recalled the settlements but that the allegations were baseless. He has faced a lot of criticism for his back-and-forth response, which has led many people to believe he has something to hide.
Third Woman Comes Forward
The allegations are not going away, and if anything, they seem to be getting worse: On Wednesday, The Associated Press reported that a third woman had come forward to say that she had considered filing a sexual harassment complaint against Cain when she worked at the National Restaurant Association.
Cain argues that the accusations are only coming out now because he has become the front-runner for the Republican nomination.
Why are you bringing it up now? Obviously, someone is encouraging them [the accusers] to bring it up now because I'm doing so well in this Republican nomination, he said when CNN Reporter Robin Meade asked him what he would like to say to his accusers. Secondly, are you being used to try and help paint a cloud and help sabotage my candidacy? That's all I would say.
Email Maggie Astor at m.astor@ibtimes.com.
© Copyright IBTimes 2023. All rights reserved.