California Cannabis Growers Under Fire For Wasting Water Amid Crippling Drought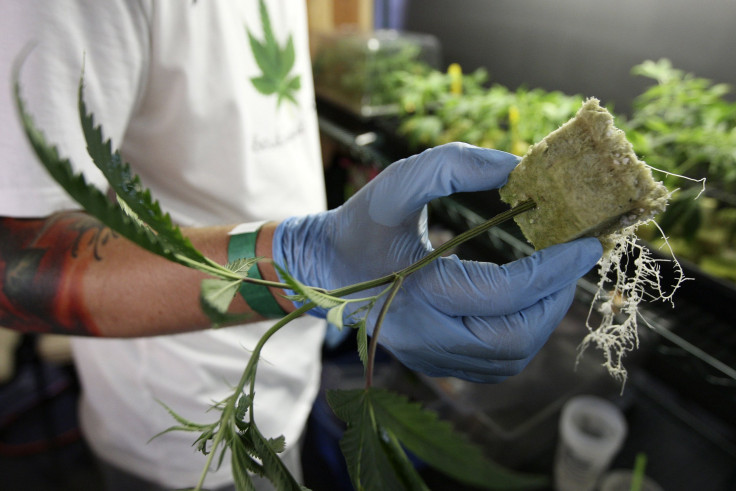 California is launching an offensive against marijuana growers who are illegally guzzling water to grow their cannabis plants. With the whole state in severe drought -- more than half of it facing "exceptional" drought -- and groundwater supplies rapidly vanishing, residents and officials are aiming to stem what they say is a devastating drain on California's liquid resources.
Lake County in the north, for instance, passed an ordinance in July requiring cannabis growers to account for their water supplies. Officials there say hundreds of illegal marijuana operations are diverting water for thousands of plants, the New York Times reported this week. The ordinance is "very pointedly meant to stop a lot of what we're seeing — the illegal diversions, damming up of creeks, tapping into springs that may be on someone else's property," Kevin Ingram, the county's principal planner, told the Times.
In the neighboring Mendocino County, a major pot hub on the north coast, the sheriff's office is stepping up its surveillance. "I have told my marijuana team, 'I want you to fly the rivers, fly the tributaries; let's prioritize the water diversion,'" Sheriff Thomas Allman told the Times.
The measures come as California residents face fines of up to $500 a day for overwatering their yards or hosing down sidewalks and driveways. Legislators passed the statewide emergency water restrictions in mid-July in response to the state's crippling three-year drought crisis. Last week, the U.S. Drought Monitor found that 58 percent of the state is in an "exceptional drought," the highest of five ratings. All of the state is in "severe drought," while 82 percent is considered in "extreme drought."
At the same time, pot cultivation in California – which is legal for some medical and personal purposes – is soaring. California's Department of Fish and Wildlife estimates that outdoor marijuana crops in Mendocino and Humboldt counties doubled between 2009 and 2012, leading to massive diversion of surface water, the Times noted. A cannabis plant can consume five to 10 gallons of water as it reaches maturity; by comparison, a head of broccoli needs about 5.4 gallons of water, and other vegetables less.
Cannabis growers aren't the only water wasters, however. Agricultural farmers and municipal water districts in California and six other states are also aggressively depleting groundwater supplies in the Colorado River Basin, which also serves residents and farmers in Mexico. A recent study by NASA scientists and the University of California at Irvine found that the basin has lost 17 trillion gallons of water in the past decade due to drought and ever-rising demand.
© Copyright IBTimes 2023. All rights reserved.