California Fire Season 2015: Why This Year Could Be One Of The Worst On Record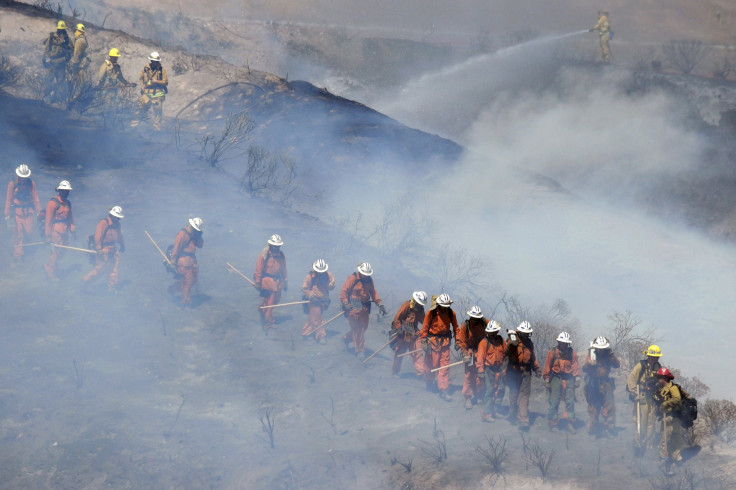 The worst may be ahead for California, a state already grappling with extreme drought and crippling water shortages. Officials there expect a particularly explosive 2015 wildfire season, the result of a dangerous combination of low precipitation, high temperatures and a prevailing dry spell that has turned vegetation into tinder, the National Interagency Fire Center says.
If the first four months of 2015 are any indication, this summer is shaping up to be one of the worst fire seasons on record in the Golden State, which since January has battled 943 wildfires that have burned a total of 4,078 acres. That's a 77 percent increase in wildfires compared to the five-year average for the same time period, say the state's latest figures, published Tuesday. More acres have burned in California in the first four months of 2015 than in nine of the past 10 years.
"The outlook in California is pretty dire," Wally Covington, a fire expert from Northern Arizona University, told Mother Jones magazine. "It's pretty much a recipe for disaster."
California's wildfire season typically peaks in the summer and into the early fall, with the most intense fires occurring in late September and October. However, fire experts say that since 2000, the number of days considered vulnerable to fire outbreaks has been growing. Today, California's fire season is about 70 days longer compared to 40 years ago, Weather.com says. More than half of the 20 largest wildfires in the state's history have occurred in the past 15 years.
California's extreme drought has certainly exacerbated the wildfire threat, but experts say it's a situation long in the making. "It's important to note that the drought hasn't created the problem, it only magnifies it," Daniel Berlant of the state's Department of Forestry and Fire Protection told NBC News. "Because the vegetation is so dry it burns at an explosive rate. And then the fire gets large before we can even get on the scene."
Scientists pointed to California's warming trend as the underlying cause of its worsening fire problem. Temperatures in California are on average two degrees Fahrenheit warmer now than they were in the first half of the 20th century, NASA climate data show. Heat waves, in which temperatures rise as much as 20 degrees above normal, have become commonplace across many parts of the state. Last year was California's warmest since recordkeeping began in 1895.
© Copyright IBTimes 2023. All rights reserved.